Easy DIY rakhi for kids to make school rakhi making competitions
Handmade rakhi designs for Rakshabandhan
DIY rakhi ideas
Handmade rakhi ideas
The festival of Rakshabandahan or Rakhi as it is commonly called is just a couple of weeks away. This Indian festival is a day for brothers and sisters and is celebrated with greater joy across India. This festival celebrates and strengthens the bond between brothers and sisters. On this day, sisters tie rakhi or an embellished thread on their brother's wrist and pray for their well-being. Brothers also promise to take care of their sisters and spoil them with gifts.
There are many legends and mythological story where someone like Draupadi, Yamuna or Rani Karnavati tied rakhi and asked Krishna, Yam and Emperor Humayun for help and they left everything to help and save their sisters. The bond of rakhi is considered stronger than blood relations.
Being the only sister to my two brothers, this was and still is a very important and joyful day for me. Though all of us stay far apart now, the approach of this festival always fills me with anticipation and excitement. My daughter too loves sending rakhi to her cousin brother who stays in another city.
This time we thought that we should make rakhi for our brothers and not just buy them from market. Yes, the shops are already brimming with colourful rakhis all around. I shortlisted some lovely rakhi making ideas from internet and here I am sharing the same with you all to help you in your rakhi making endeavours. These are simple ideas which you can easily do with your young children.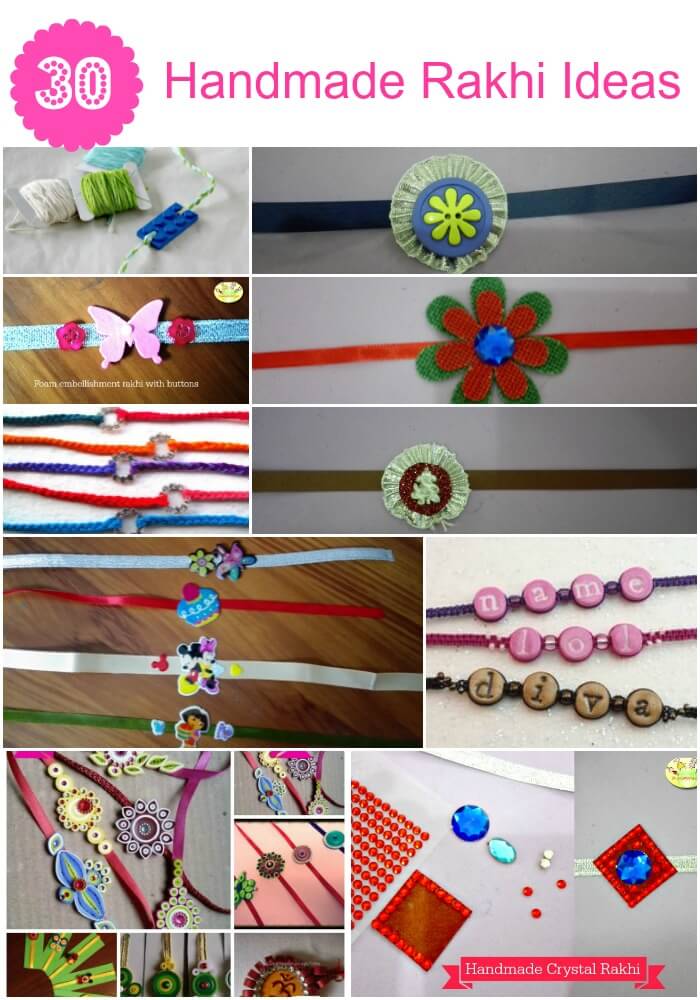 DIY Sticker Rakhi
These rakhis are the easiest to make specially if you have young children who you are making these with. These are also very versatile, as you can choose any kind of stickers that you children like. Young children love cartoon characters and you can choose anything that they like.
Common ideas for creating sticker rakhi are:
Cartoon character rakhi
Animal rakhi
Vehicle rakhi
Smiley rakhi
Butterfly rakhi
Bird rakhi etc.
What you need:
Your child's favourite stickers (preferably thick, felt stickers)
Satin ribbon to tie
How to make button rakhi :
Cut the satin ribbon of appropriate length.
Stick the sticker on the ribbon using the adhesive backing.
You may choose to stick the stickers on a foam or felt base too.
Handmade Button Rakhi
These are also great to make with preschoolers.
What you need:
Colorful buttons
Glue
Satin ribbon to tie
How to make button rakhi :
Cut the satin ribbon of appropriate length.
Using glue, stick button at the centre of the ribbon.
You may also combine different sized buttons to create some new design.
Handmade Gota Rakhi/ Recycled rakhi
Another simple idea of making rakhi is by using gota flowers.
The Ganesha embellishment that we have used here has come out of an old card, which we have recycled here.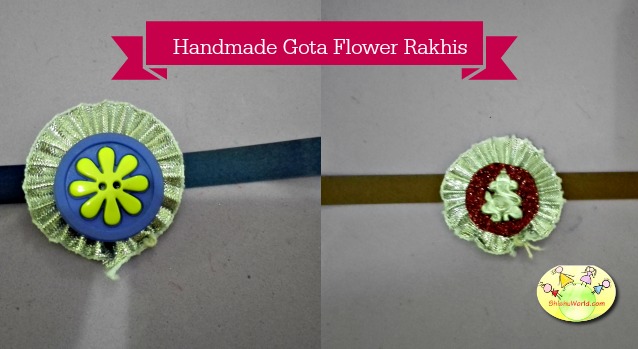 What you need:
Readymade gota flowers
Glitter foam sheet
Embellishments – We used a small silver Ganesha
Ribbon
Glue
How to make Ganesha Rakhi:
Cut a small circle out of contrast color glitter foam sheet. The circle should be smaller than the goto flower.
Stick the circle on top of goto flower.
Stick the Ganesha in the centre of the glitter circle.
Stick this whole topper on the ribbon.
Gota flower Ganesha rakhi is ready.
DIY Star Rakhi for kids
We have used glitter foam and crystal embellishments to make this rakhi. It is another perfect project to do with your kids.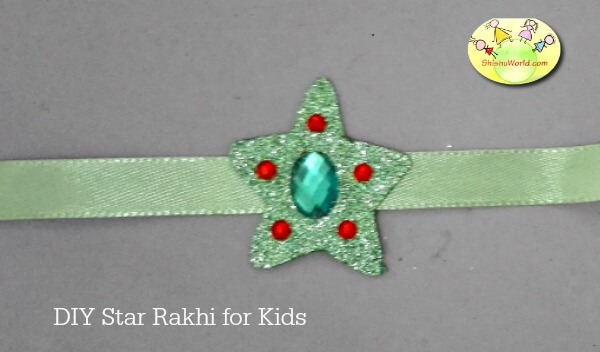 Foam embellishment rakhi with buttons/ Butterfly with flowers rakhi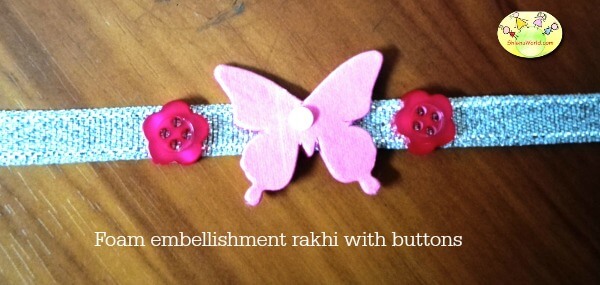 What you need:
Readymade foam embellishments – We have used a butterfly embellishment
2 red flower shaped buttons
Silver ribbon
Glue
How to make butterfly with flowers rakhi :
Stick the foam butterfly on top of silver ribbon.
Stick two red flower shed buttons on each side of the butter fly.
You easy-peasy rakhi is ready.
Jute flower rakhi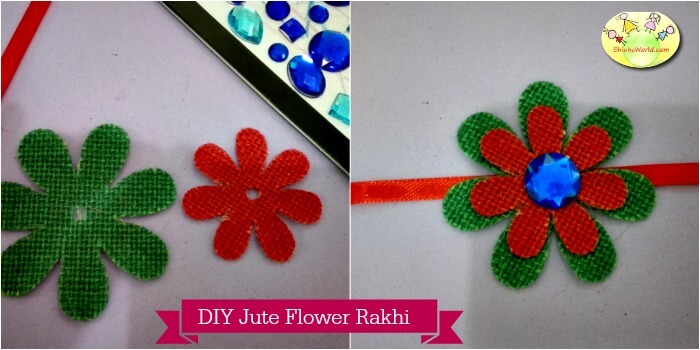 What you need:
Readymade jute flowers in different sizes- red and green colors
Sticky crystal embellishments
Red satin ribbon
Glue
How to make jute flower rakhi :
Stick the small jute flower on top of the bigger jute flower.
Stick the crystal embellishment in the centre of small flower.
Now stick this on a satin ribbon.
You easy-peasy rakhi is ready.
Easy handmade paper diamond crastal rakhi
What you need:
Handmade paper
Little diamontes / craft crystals/ rhinestones
Big crystal/ rhinestone
Glue
Satin ribbon
How to make jute flower rakhi :
Cut a diamond shape out of the handmade paper.
Stick red rhinestones on the edges of the shape.
Now stick the big crystal in the centre of the diamond shape.
Stick the little rhinestones around the big crystal as you wish to make it look more beautiful.
Now stick this rakhi on a satin ribbon.
Your handmade paper diamond rakhi is ready.
DIY Resham/ Silk thread Rakhi
Here is a simple tutorial to make resham/ silk thread rakhi.
Handmade Felt and Button Rakhi
Here is another beautiful but simple idea to make rakhi using felt and button.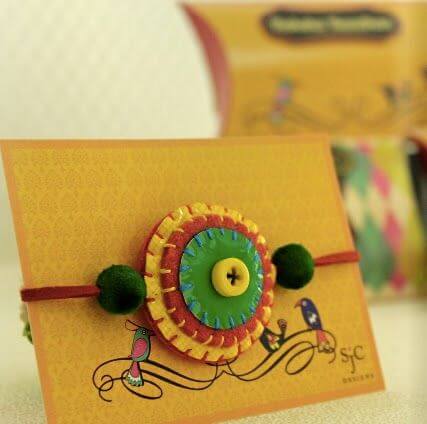 DIY Rakhi with card stock
Check out this simple tutorial to make card stock rakhi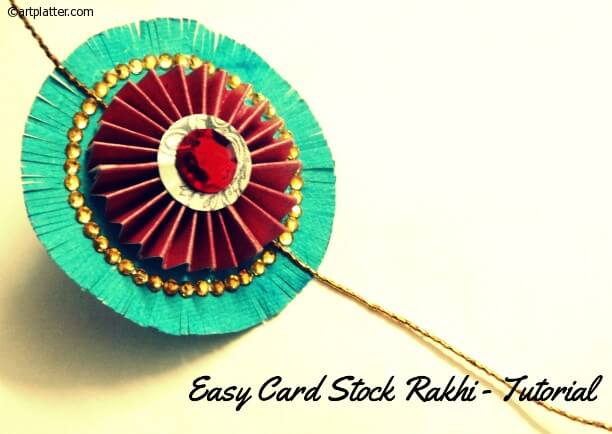 DIY Eco friendly Rakhi made with Wheat flour
DIY Quilled Rakhi Ideas
If you love quilling, it can be used to make numerous designs for making your own rakhi. Here are some lovely design ideas.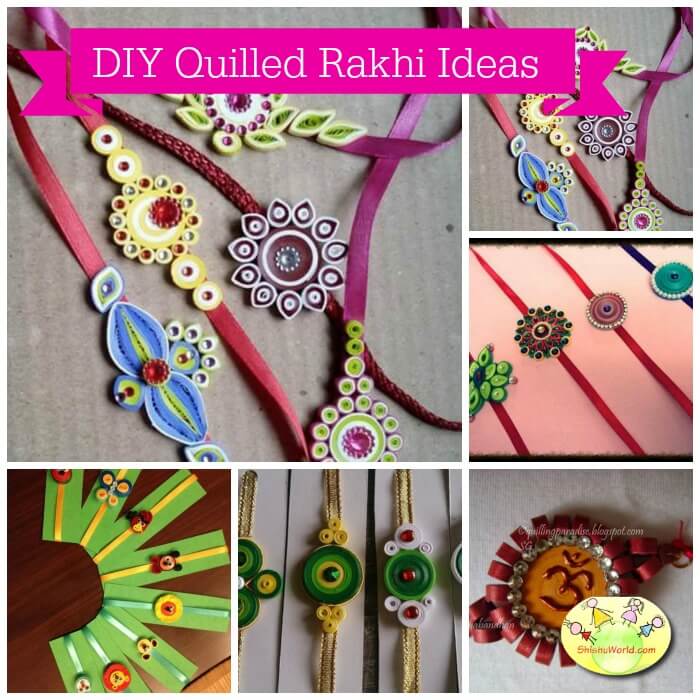 Braided Silk Thread Rakhi ideas
Braid together colourful silk thread to make braided rakhi. You may also braid to use it in place of ribbon and embellish it with any topper.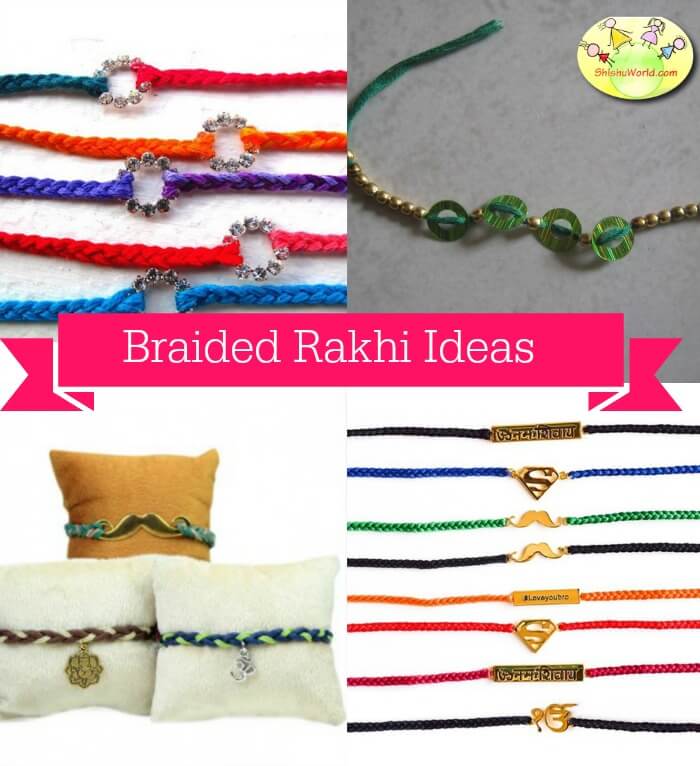 Lego Rakhi
Take inspiration from this lego friendship band to make your own lego rakhi for lego fanatics. All you need to do is drill two holes and pass the braided strings.

Personalised Rakhi with Names/ Letter
You may use letter beads to make personalised rakhi for your children.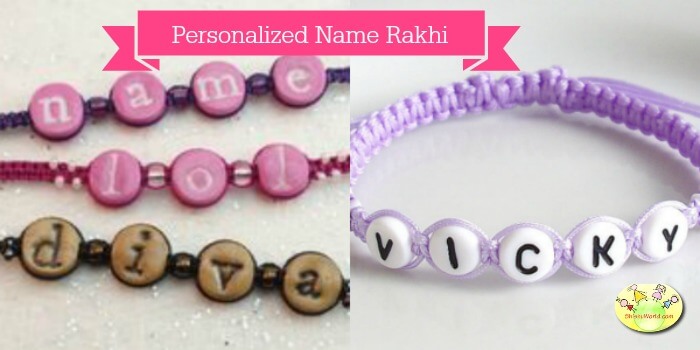 Here are some more handmade rakhi ideas in this easy tutorial
Ribbon flower Rakhi
Here is a simple tutorial for kids to create a ribbon flower rakhi.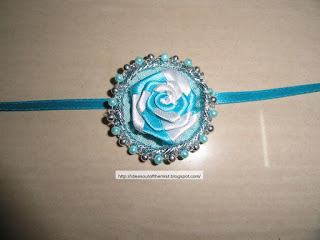 DIY Rakhi envelopes
You can also DIY Rakhi envelopes with this easy tutorial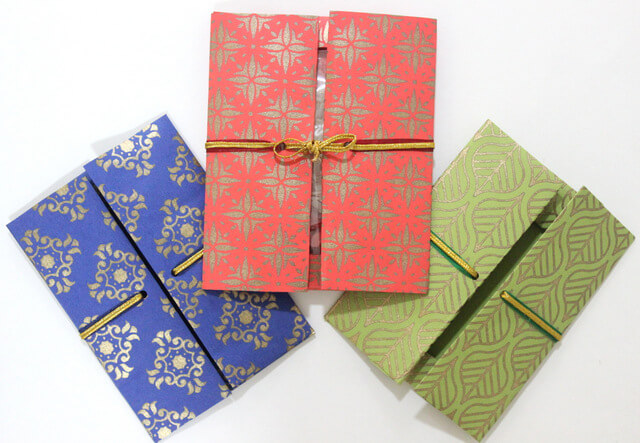 DIY Rakhi Thali/ Platter idea
Here is a simple tutorial to make a beautiful rakhi platter/ thali
Hope these will give you enough ideas and inspiration to make your own rakhi this Rakshabandhan. Most schools conduct rakhi making competitions during this time. You can use these simple ideas to help your child make few of those in school. Do share this article, if you found it helpful. It keeps us motivated. Leave a comment to let us know what you feel.
You can follow us on Facebook, Twitter, Pinterest and Youtube.
Recommended Read:
10 TRICOLOUR FOOD IDEAS FOR REPUBLIC DAY/ INDEPENDENCE DAY CELEBRATION
50+ Independence Day, Republic Day Ideas- Crafts/Food/Books/Dress up/Colouring pages
Tips to dress your babies, kids in Krishna dress, Radha dress for Janmashtami
50+ Diwali Crafts, Cards, Books Rangoli, DIY Toran, Home Decor ideas