You know how I am trying to move away from packaged goods and recommend homemade food for everyone. The reason is the over usage of chemicals in everything around us. But this is not just limited to food, but most things that we use. I become even more sceptical, when it comes children's products. So when I came across this set of organic crayons for kids by Azafran, I was quite excited to try them.
My daughter loves drawing and colouring and we have a huge collection of crayons as well as other kind of colours. She is also at a stage where she quickly moves from one activity to the other and sometimes puts her fingers in her mouth after colouring without washing them, so the idea of organic and edible crayons was quite appealing to me. So here is my experience of Azafran organic crayons.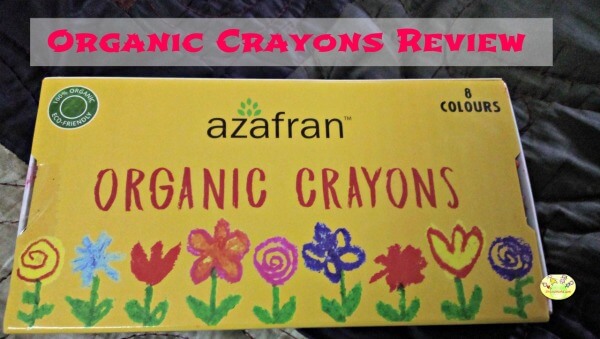 First impression/ How it appears and feels?
The pack looks like any other pack of pastel colors, but the surprise awaits you once you open the cover. The crayons are not typical long cylinder shaped but cuboid blocks. My daughter was quite excited to the different shape. The best part was that we could take them on our recent airplane trip and my daughter could draw easily on the tray table without them rolling off which was a big problem with other crayons.
On touching, it appears quite waxy which is expected since it made up of palm and soy wax. The pack contains 8 shades instead of the usual 12 crayons – Yellow, Orange/Pink, Red, Purple, Blue, Green, Brown and Black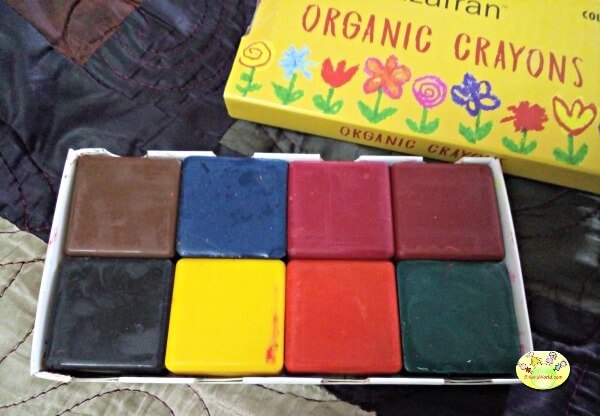 What Azafran organic crayons contain?
Azafran organic crayons are made with organic soya wax, organic sunflower wax and food grade colours.It does not contain any animal ingredients or chemicals. The brand claims it is completely safe and edible so you need not worry even if your little one puts it in his/her mouth. The ingredients of Azafran organic crayons are awarded the USDA and ECOCERT stamp of approval thus they are also a responsible and earth conscious choice.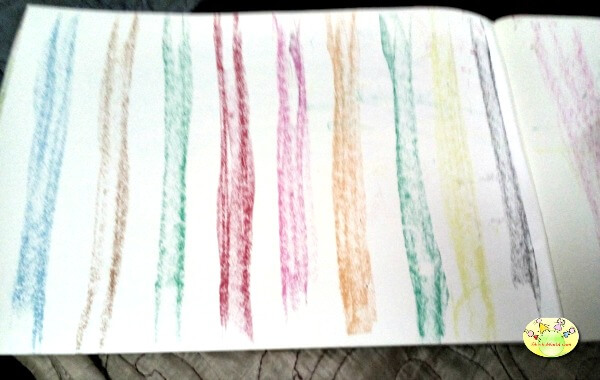 Why Azafran organic crayons ?
Azafran organic crayons are vegan and organic.
They are completely chemical free and safe as first crayons for little ones.
They are sustainable and do not pollute the environment.
What makes Azafran organic crayons unique and different from other crayons?
These crayons are not just a great choice because they are organic and environment-friendly, but they are also a great choice for children.
Unique block shape : Crayons have a unique block shape making it easy for young kids to hold the crayons and draw.
Promotes play and Encourages hand-eye co-ordination
Easier to handle : The block shape makes sure they do not roll off. So important for young children as the normal crayons roll off the table.
Versatile : The crayon blocks allows children to think openly and they are able to devise a number of games like stacking or building
Improves motor skills : Since these crayons are big enough to be handled by toddlers, they allow kids to hold them and scribble and draw even before developing the pincer group.
Would I recommend Azafran crayons ?
Definitely. According to me, Azafran crayons are the perfect first set of crayons for toddlers as they are organic and even edible since toddlers are notorious for mouthing everything they get their hands on.