Toddler Clothes Planning Tips
As a toddler my daughter had a special knack to spill her soup, milk or cover herself with mud the moment I dressed her up in lovely clean clothes. She needed many clothes. 
Toddlers have immense energy and are extremely active. They need huge amount of comfortable clothing. Buying the right clothes for your toddler makes a big difference in your life. 
Here is a Guide for Planning Toddler Clothing
Buying clothes for toddlers is an exciting experience. The markets are flooded with options
Select natural, durable, absorbent and easy to care fabrics. Layered clothing is great as it can be added or removed according to the weather.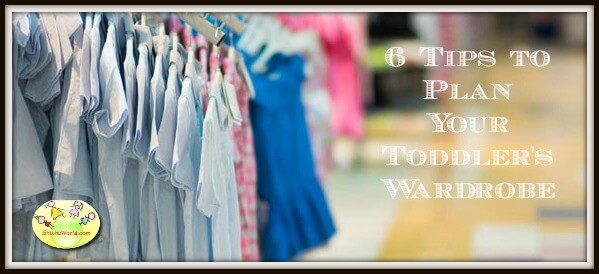 Here is a list of things to be kept in mind:
Easy to put on and off
No complex yarns/ties/belts/lace 
Buy bottom wear with adjustable elastic bands
Keep potty times in mind
Size up when unsure 
Mix and match 
Toddler friendly Festive accessories – No lose bows, buttons or yarns 
Tough fabrics 
Planning your shopping saves money, time and energy. It also reduces the number of regret buys. Planning ahead is the key to get great stuff within budgets. Look for bargains and offers. Buy winter clothes in February that marks the end of winter, when shops and brands offer huge discounts. Similarly buy summer clothes at the end of the summer season. As this will be for the next season, buy larger clothes anticipating the growth of your toddler.  
Size for Toddler Clothes
Buying clothes for toddlers should have a good mix of sizes. As toddlers grow up very fast, it is always better to buy some clothes two sizes bigger.
Fabric for Toddler Clothes
Comfort is crucial while selecting the fabric. Cotton is the best option. You can also buy combination fabric with a higher percentage of cotton for easy maintenance. Check for labels or stickers. These should not scratch the child's soft skin. Always opt for good-quality  clothes, that can be machine washed and require minimum maintenance. 
Colour for Toddler Clothes
This is the only time you can play with colour. Toddlers look lovely in bright colours and often don't show any preferences. Try to have an assortment of dresses. Bright pastels and neutral all will look good. Go for nursery prints, cartoon characters, polka dots, stripes or checks. The colour should be fast and not bleed; otherwise, you need to hand wash.
Day and Night wear
Have at least four sets of day clothes and two sets of night clothes for every day for your toddler. Lighter clothes for the day in the summer season would be essential. For the night, you can have something thicker.  
Clothing Styles for Toddler Clothes
Toddler clothing should look good and be practical. Putting on and taking off a dress should be easy. The necklines should be stretchable and loose.
Budget for Toddler Clothes
Don't go for branded and expensive T Shirts, tops, tights, vests. Have a good mix of cheaper labels with branded ones to avoid unnecessary expenses.
Handy Checklist for Toddler Clothes
Vests
Shirts
Frocks
Bodysuits
Rompers
T Shirts
Pants
Tunics
Leggings
Sweaters
Jackets
Whatever clothing you select, make sure that it is comfortable and not restricting. Functionality is crucial. Buying for toddlers can be confusing with innumerable options in the market. Making a list of what you have and what is required helps in planning your toddler's wardrobe effectively.
Author
| | |
| --- | --- |
|                     | Nupur Roopa is a  freelance writer, Instructional designer and  a Certified Motherhood Coach. She is a voracious reader and loves to read both fiction and non-fiction. As a Yoga practitioner, Reiki master, she brings her experience in energy healing through the five elements to her coaching practice. She specializes in working with women in transition, especially mothers who want to create a joyful contended life. Find her at http://blissformoms.com/ |