Tips to survive colic
I still remember the time when my daughter was only two or three months old and she used to cry inconsolably for two or three hours every evening. Those were the few days when I got extremely exhausted with her. I felt so helpless and could not maintain my sanity. To be very honest, I was no longer able to enjoy the beautiful phase of motherhood.
Early morning my little girl used to wake up all happy and cheerful. I used to nurse her, massage her, give a bath and she slept peacefully throughout the day like an angel. But just as the clock used to struck 8:30 or 09:00 pm, she would start with twists and turns in sleep and then began crying session for hours. Yes, it even happened that she cried for three hours straight. Me and my husband tried all kinds of soothing strategies but all failed.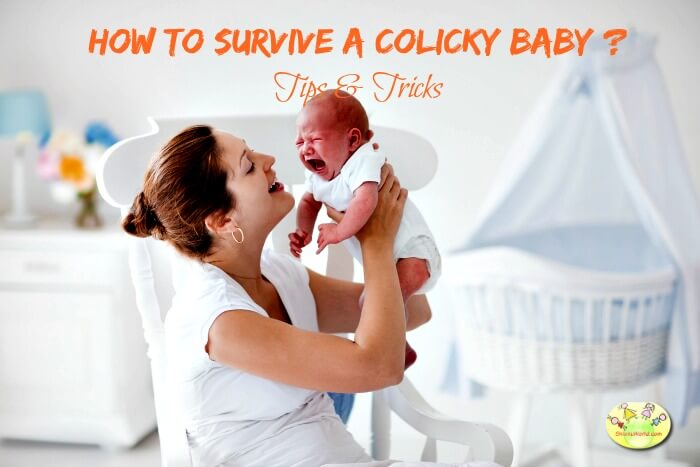 We ran to the pediatrician to understand the cause of her crying. The pediatrician unfortunately couldn't give us any magic pill . He said she was suffering from mild colic pain and colicky babies usually cry at the same time everyday. As per the pediatrician it will subside on its own by fourth or fifth month and prescribed a medicine.
Causes of Colic
It's said that indigestion may be the cause of colic, but the exact causes are largely unknown.

If you are a breastfeeding mom and your baby cries of colic pain, please check your own diet. Some changes may help the baby.
If on formula milk then paediatrician can suggest some changes and recommend something different which may suit the baby.
There are anti colic bottles available in market. Those bottles can be tried if baby is bottle fed.
It's extremely difficult and challenging for parents to handle a colicky baby. All it needs is patience. If you have a fair idea about the symptoms of colic it will be much easier to deal with the baby. With time we as parents could handle her well.
So today I'll share few tips and tricks to handle a colic baby.
Few tips to soothe a colicky baby
First thing is visit a paediatrician and mention the way your baby cries. Some baby  cries with frequent session of vomiting . So let the paediatrician rule out the exact cause.
If you are sure baby is crying due to colic pain, try to hold him or her upright and walk out of the room. Fresh air or different atmosphere sometimes help.
Try massaging baby's tummy. Gently but firmly press the tummy.
Rotate knees gently clockwise around the tummy, like a cycling movement. It helps many a times.
Please do not get impatient if massaging fails. Try to put baby on tummy position and gently rub the back.
In some cases swaddling and rocking helps. Try to swaddle baby correctly and rock gently with some light music on.
Try some white noise. Personally it never worked with me.
Are there any medications which can be used to relieve colic
BioGaia Protectis baby drops are very popular worldwide for treating a lot of baby's problems like colic and other discomfort. Good news is, it has now been launched in India as well by Dr. Reddy's.
Protectis baby drops are basically probiotic drops which introduce healthy bacteria in baby's gut to relieve gas and aid digestion. Colic is most often a direct consequence of gas in tummy, which can be treated with this.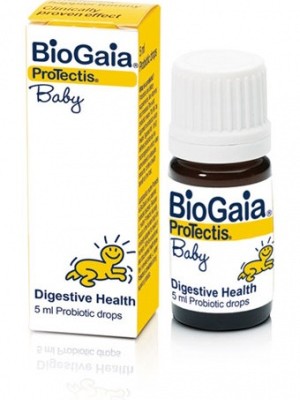 In what age Protectis be given?
Protectis baby drops are completely safe for newborn babies and can be given as early as a few days old baby.
What is the dosage for BioGaia Protectis baby drops?
The dosage is 5 drops once per day irrespective of the age.
How can we give Protectis baby drops to baby?
Protectis baby drops have no flavour, so you can give them directly with a spoon or mix it with any food, before bottle formula or breastmilk. The food that you mix it with should not be hot as heat can kill the probiotics. It can be cold or room temperature.
Is Protectis baby drops the same as gripe water?
It is not same as gripe water, neither is it a spot gas treatment. It works by making baby's gut healthy and helping in digestion thus helping with issues like colic, gas pains and  constipation.
What not to do with a colicky baby
Please don't get upset and overtired and try to shake the baby with the intention to make him or her stop the tears. That won't help or rather cause Brain damage.

Do not leave the crying baby unattended. If you're tired please get help from partner.

Don't try any forceful means to put baby to sleep. It will worsen the condition. 
My daughter suffered colic pain for two to three months. Some kids suffer for nine months even. Its extremely tiring for parents and whoever face this will understand.  My daughter is always a good sleeper and as I said she used to get up from deep sleep when she was in pain. After three months she was happy go lucky girl. So I conclude with this and lastly moms and dads please be patient when you have a colicky baby because this will get better with time.
This article has been contributed by Sagarika Das.