Independence day craft ideas
Indian flag craft ideas
Independence day crafts
Indian flag crafts
As I told you, I and my daughter did some crafts this weekend. I shared the peacock puppet craft that we did and today I am going to share two more simple crafts that we did for Independence Day. You may also make these for Republic Day.
Also check out:
Independence Day Indian flag crafts
My daughter loves making Indian flags. So this time we tried another simple way to make Indian flag to celebrate the upcoming Independence Day. She has recently done q-tip painting in her school, so we applied the same technique to make this flag. Q-tip in simple language is the ear-bud that is available in every bathroom cabinet. This technique is simple and non-messy for young kids to handle.
Make Indian flag using q-tip painting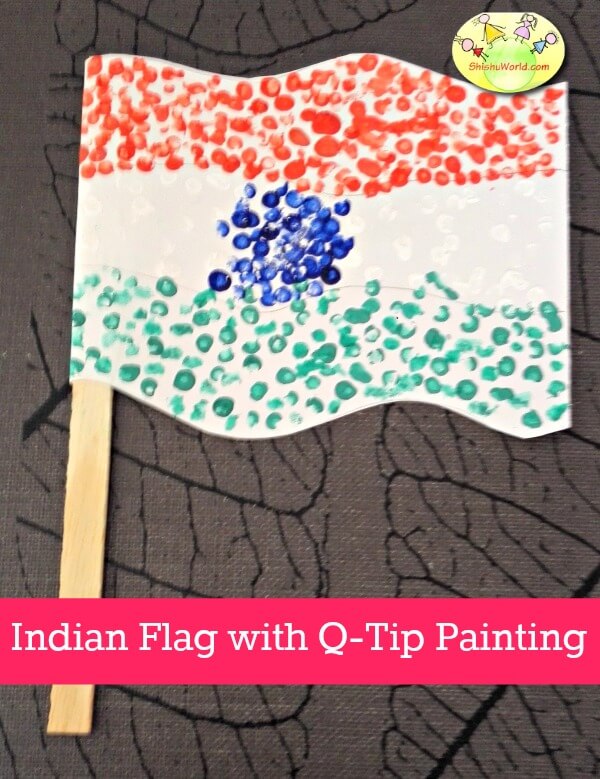 What you need:
White construction paper
Acrylic paints
Color palette
Q-tips
Process
Draw an Indian flag on white construction paper.
Mix saffron, white and green colour on colour palette.
Ask your child to dip the q-tip in saffron colour and make dots to colour the top of the flag.
Similarly, ask the child to make dots to colour white and green parts of the flag.
Once the paint is dried, then ask your child to make blue dots for Ashok chakra.
Once the flag is completely dry, add a craft stick to make the mast of the flag.
Make Indian flag craft using torn paper
Indian flag crafts are always a favourite when you want to do India-themed crafts. They provide instant connection with the occasion to kids and they are easy to make. We had also made a simple Indian flag craft for Republic Day. We had used torn coloured paper to make the flag.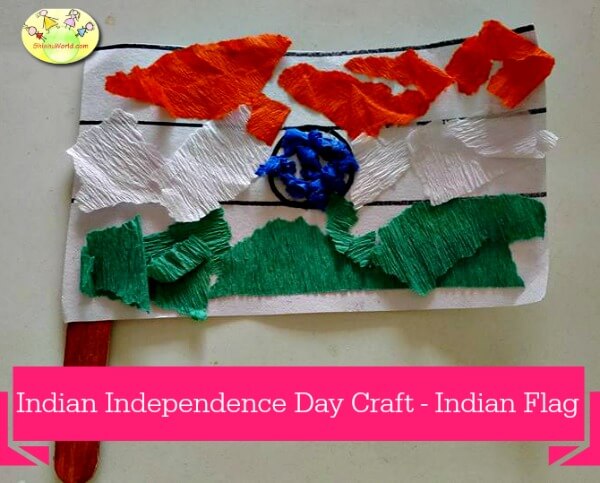 What you need:
White construction paper
Saffron/ Orange crepe paper
White crepe paper
Green crepe paper
Blue crepe paper
Popsicle stick
Glue
How to:
Draw the shape flag on white construction flag.
Tear saffron, white and green crepe papers into small pieces.
Tear blue paper into small pieces.
Now apply glue on drawn flag.
Ask your child to paste torn pieces of coloured paper on the flag.
Make small balls of blue paper and paste in place of Ashok chakra.
Paste this flag on a popsicle stick to make the mast.
Indian flag is ready.
Do make these two simple Indian flag crafts with your kids to celebrate Independence day next month. We would love to hear your ideas of Independence Day crafts that you and your kids do together. Do watch out for a huge Independence day/ Republic day activities round up post coming up soon. Do not forget to share this if you love the ideas.
Recommended: 
We have a whopping post of 50+ ideas for kids to celebrate Independence Day / Republic Day . It includes more crafts ideas, books to read, dress up ideas, quiz questions, rangoli designs and so on.