Mustard Pillow for Newborn
Q. Dear Ma,
I want to know how the mustard pillow for newborn babies is made and what is it's significance ?
Ans.
Dear User,
Mustard pillows (Rai ki takiya) have been used in India since time immemorial. These pillows are meant to reduce the chances of flat head in baby. A baby's head can sometimes become flat because she spends all the time on her back. This pillow is time-tested Indian method to avoid this.
Mustard seeds are filled in pillows. When baby sleeps over this pillow, it takes the shape of the baby's head and help her sleep comfortably. Mustard is also known to keep colds away due to it's natural warming properties.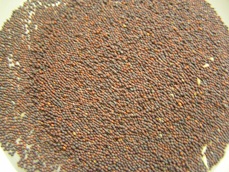 Follow below steps to prepare the pillow:
Wash and dry about 1/2 -1 kg mustard seeds in sun. It will depend on the size of the pillow you want to make.
Ensure that seeds are very well-dried as even a little moisture defeats the purpose.
Take a 1 meter or soft cotton or muslin fabric. Wash the fabric if it is brand new.
Stitch a pillow case out of the fabric about 10 * 15 inches size, using hand or machine. Stitch on three sides and keep one side open for filling.
Fill the case with dried mustard seeds.
Stitch the pillow on the fourth side to seal it.
Make sure you double or triple-stich the pillow to ensure no seeds escape.   
Ensure, you do not fill too much or too little seeds. Too much will make the pillow hard, while too little will not be comfortable for the baby.
Also make or buy few cotton or muslin pillow covers, so that you can wash them from time to time, to keep them clean. 
P.S. Never wash the pillow itself.
This can be used for the first few months, when the baby spends most of her time on back.
Read more home remedies for babies here.  
 Disclaimer : Please note that none of these home remedies or advises should replace doctor's recommendations.