Continued from: Indian Baby Food Chart, Infant Feeding Guidelines Chart (0-12 months) with 50+ recipes
Month-wise meal plans/ diet charts for infants
Sample Diet Plans for Toddlers
Indian Baby Food Chart for 4-6 Months
Although recommendations are to exclusively feed baby on breastmilk or Formula only till the age of 6 months, many families and pediatricians prefer to start babies on some sort of external food sometime between 4 and 6 months, preferably close to 6 month mark.
If you decide to start your baby on something other than breastmilk or formula between 4-6 months, ensure that it should be very gradual and liquid.
You should follow the 3 day rule, ie. you should introduce only one new food at a time and keep a gap of atleast 3-4 days before introducing anything else. E.g. if you start your baby on moong dal water, as is traditional in India, continue giving the same , only about a teaspoon full, for atleast 3-4 days. If you see any allergies/reactions/ rash, discontinue immediately and wait for few more weeks before trying again.
According to some studies, proteins are more difficult to digest and hence they should be introduced after 6 months. In that case, you can start baby on rice cereal / fruits / vegetables etc.
What to Feed : 
What not to Feed :
 Any solid food which needs chewing.
Read more on what foods to avoid during first year
New Introduction :
Dal water
Rice water
Diluted Rice cereal
mashed banana diluted with baby's milk
cooked and thinly pureed and strained fruits and vegetables
 See more on what to feed baby between 4-7 months.
How much to feed:
Solids at this age are just to introduce baby to something other than breastmilk or formula. Take it very, very slow, starting with just a teaspoon of food, gradually increasing it to a tablespoon or so. If your baby does not want to take it, don't force the issue. There is no need for baby to have solid food at this age. All your baby's nutrition needs are fulfilled by breastmilk or formula, so do not worry, if your baby does not want to take new food. Wait for a few days and then try again.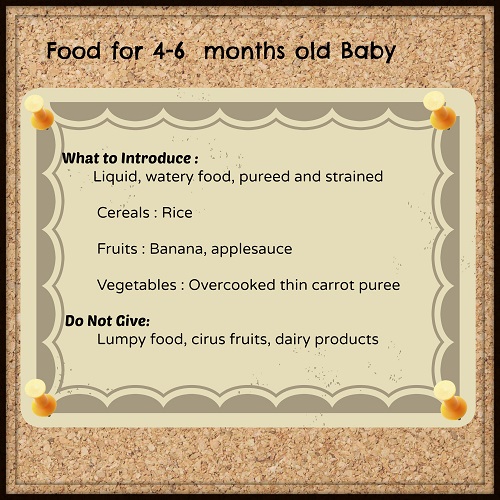 P.S. Do not feel pressurized by seeing other babies or listening to other mothers, who say that their babies were eating so and so much during this age. Always remember that your baby is unique and no two babies behave or feed in the same way. Check your baby's growth using Growth Chart calculator

 Month-wise meal plans/ diet charts for infants