Month-wise meal plans/ diet charts for infants
Top 10 Foods to help Weight-gain in Toddlers
Sample Diet Plans for Toddlers
Indian Baby Food Chart for 10-12 months 
What to give:
New Introduction :
You can give most of the food you are having, as long as it is not too oily, hot and spicy.
What Not to give:
Honey – Can cause botulism in infants, hence it is recommended to wait till one year before giving honey
Chunky foods like nuts and candy which can cause choking.
Read more on foods to avoid during first year – Unsafe foods for baby till 1 year.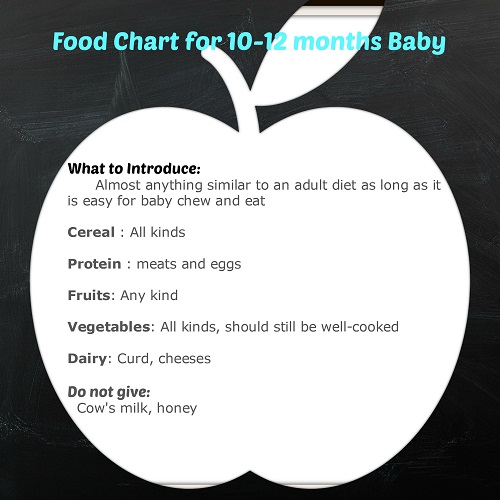 P.S. Once you start solids, start feeding some amount of water also. It need not be more than 120-150 ml per day. Many babies suffer from constipation once they start solids. Having water will not only keep the baby hydrated, but also keep constipation at bay.
Find recipes for babies here