Continued from: 10 types of Khichdi recipes for babies, toddlers and kids
6) Masoor Dal khichdi recipe for babies( 10-12 months)
Having married into a Bengali family, I am now used to using masoor dal or red lentils extensively and realise that it too is a lighter lentil as compared to toor or yellow lentils. It can therefore be introduced to babies after moong dal. Here is a simple khichdi which I used to make for my daughter when she was a baby. I also add different vegetables like gourd or raw papaya or pumpkin to this khichdi to make it wholesome.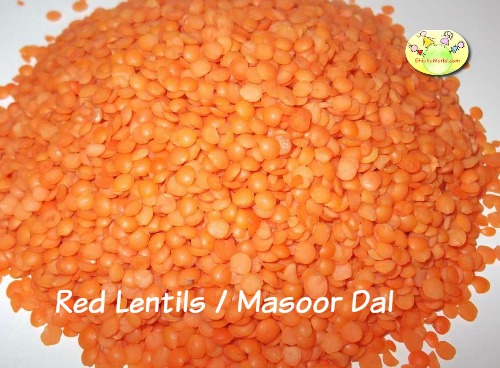 Ingredients
1/2 cup rice
1/4 cup masoor dal ( split red lentils)
½ potato, 1 piece raw papaya
(Add as many or as few veggies as you like)
1 teaspoon of ghee (To learn how to make Ghee, click here)
1 bay leaf
1/2 tsp cumin seeds
A pinch of turmeric
Few sprigs of chopped coriander leaves
Recipe
1.Clean and wash masoor dal and rice well. All the milkiness should go away.
2.Soak dal and rice in water for half an hour.
3.Clean and wash the veggies. Chop into small pieces.
4.Heat the ghee in pressure cooker.
5.Put the cumin seeds till it crackles. Add the bay leaf.
6.Add dal and rice and sauté a little, then add potato and papaya pieces.
7.Add a pinch of turmeric.
8.Add water and pressure cook this for 5-6 whistles, till everything is well- cooked (You should be able to mash them with a spoon).
9. Mash khichdi lightly with a spoon and serve with some more ghee if you want.
7) Mixed moong, masoor and spinach khichdi recipe for babies (10-12 months )
See detailed step by step recipe of mixed moong, masoor dal and spinach khichdi for babies here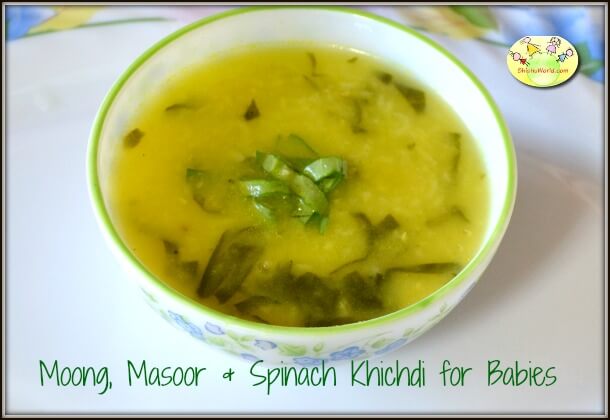 8) Dalia Khichdi for toddlers and kids
Once your baby graduates to being a toddler, you can add a lot more variety and this dahlia khichdi made from broken wheat and dal and vegetables is just perfect.
Find step by step process to make dalia khichdi for toddlers and kids here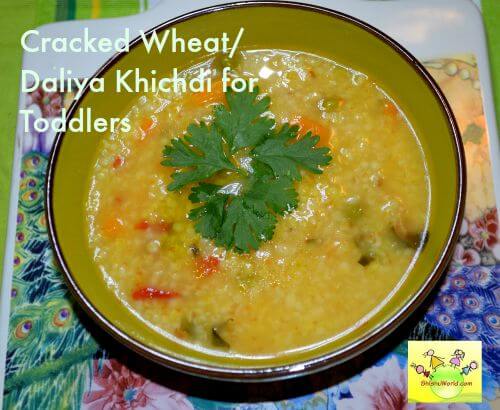 9) Masala khichdi for toddlers and kids
This is your regular khichdi with some tempering on top.
Make the plain vegetable khichdi using moong dal or masoor dal.
Heat ghee in a tempering pan.
Add cumin seeds and  asafoetida(hing).
Now add finely chopped garlic and let it brown.
To this add chopped onion and tomatoes and cook till soft.
Add this tempering on top of khichdi, mix well and keep it covered for 10 minutes.
You may also add chillies if your child likes them.
10) Bengali Bhaja Khichuri/ Khichdi for kids
This khichdi is a bit different from others as the dal is roasted before cooking hence the name bhaja(rasted or fried) khichdi.
Ingredients
1 cup rice
1 cup moong dal
1/2 tsp turmeric powder
2 cups cauliflower florets
1/2 cup peas
4 medium potatoes quartered
6 cup water (approx)
salt to taste
1/2 tsp sugar
1/2 tsp red chilli powder (optional)
2 tsp cumin powder
For The Seasoning 
4 tblsp Ghee
2 Bay Leaves
4 Green Cardamoms
6 Cloves
Cinnamon 1 inch piece
How to make khichuri:
Dry roast moong dal in a heavy bottomed pan.
Make a paste of turmeric powder, cumin powder and red chilli powder.
Wash rice and drain.
Take sufficient water in a big size pot and add rice and dal with 1 bay leaf in it.
Add salt and cook uncovered.
When the rice is half done mix in masala paste and vegetables, simmer till they are cooked.
In the meanwhile dal and rice will also be cooked. Take the khichuri off heat.
Prepare the tadka or phoron (tempering) by heating ghee in a small fry pan.
Add bay leaf, green cardamom, cloves and cinnamon.
You may also add red chillies if your child likes.
Temper the khichdi with this tadka.
Serve hot with pure ghee on top.
Top tip:
These are my favourite khichdi recipe for babies. Other than preparing these khichdis, I sometimes used to just mix together our plain rice, dal and prepared vegetable and give it 2-3 whistles to make an easy-peasy one pot meal for her. You may also add a little ghee to it if needed. This was while she was still a baby. It also got her used to eating our regular food quickly. Mind you, we eat very less spice and chillies as a family so it was ok for us. If you are used to heat, then you might want to keep a little food for baby before adding chillies and spices. 🙂
Have you checked out our latest eBook "Back to School LunchBox & Snacks menu and recipes for 4 weeks".   It will make your life super easy with the planning done for you.
Hope these khichdi recipe for babies will help you in planning your baby's food. If you like it, do share it in your circle. Do leave a comment to ask a question or let us know your feedback.  You can follow us on Facebook, twitter and pinterest. Do subscribe to our youtube to get new video recipes every week.