Recipes for weight gain in kids
Dry fruit laddo for kids
Dates, Seeds & Nuts Balls
Quick snack for kids and adults
What can I give to my child for weight gain
Energy balls recipe
The one most common question that I get asked is about weight gain in children. Now I believe that if the child is healthy and hitting his/her developmental milestones regularly, there is no need to worry. This is common from a mother of a lean child herself. Some children have high metabolic rate and are more active than others. In such cases, we can introduce healthy food items which are calorie dense We have in the past shared Dry fruits powder, Homemade Peanut Butter, Almond milk powder and Almond and Flaxseeds Powder which can be included in a child's diet to give extra calories.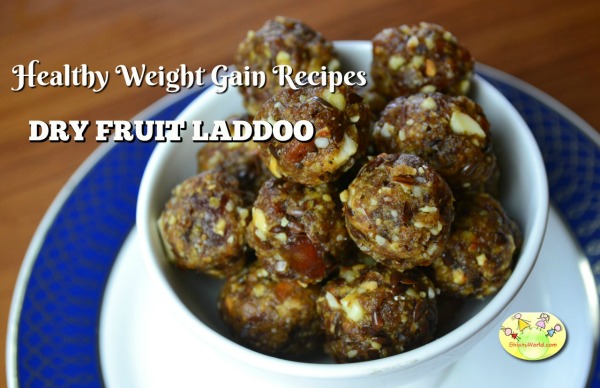 Today we share another recipe of instant energy balls or laddoos, which can be given to children and can also be had by busy adults. You can have a couple of these after a workout or when you are having a hurried breakfast. This is sugar less too, so you can have them guilt-free. These laddoos also have flax seeds which not give a nice crunch but also add loads of goodness.
Ingredients
1 cup deseeded dates (khajoor)
1/4 cup almonds
1/4 cup cashew nuts
1/4 cup walnuts
You may also add any other nuts like pistachio nuts, hazel nuts etc.
1/4 cup flax seeds
1/4 cup raisins
4-5 green cardamom
1 tablespoon ghee
Recipe
Chop the nuts into small pieces or alternately, you can pulse them in a blender to a coarse powder. Keep aside.
Make a coarse powder of flax seeds and keep aside.
Lastly, put the deseeded dates and raisins in the blender and make a paste. The paste need not be very fine.
Now heat the ghee in a pan.
Add powdered nuts in the ghee and roast them for 50-60 seconds till the rawness goes away.
Add the flax seeds powder and roast everything for another minute while stirring.
Finally add the dry fruits paste and mix everything well. The heat should be at the lowest.
Now turn off the heat and add the cardamom powder to the mix and mix well.
Let the mixture cool down so that they are easy to handle.
Once the mixture is cool enough, make small balls or laddoos, the size of a large marble.
Keep these laddoos in air tight container in fridge for upto 3-4 weeks.
These laddoos are small but loaded with energy. A couple of them can also give your child the much needed energy boost after s/he is back from school or playground or a swim.
Tips:
You may also add more dry fruits like dried apricots and dried figs.
You may add other nuts like pistachio nuts, peanuts, hazel nuts etc.
You can also give these as school snacks for kids.