Continued from: Sprouts and Chickpeas Salads for Mums
Stir-fried Broccoli and Mushroom salad with Sesame seeds and Amaranth
This is another great recipe which gets prepared in a jiffy, but keeps you active and raring to go till lunch time.
Amaranthus or Cholai or Rajgira is consumed in almost all parts of India, albeit known by different names. The leaves are green, red or yellow in color and are cooked as a saag. Rajgire ka atta or amaranth flour is commonly used during fasts along with buckwheat flour( Kuttu ka atta) and singare ka atta. Amaranth grain is known to be rich in protein and dietary fiber. It is also gluten free and is a rich source of minerals.
I recently came to know of them and now I try to use them wherever I can. They can be popped like corn and are delicious though the gains are much smaller size being similar to mustard seeds.
To pop amaranth, heat a pan till very hot. Put about a teaspoon of grains as a time. Keep shaking the pan a bit to allow heat everywhere. It will start popping almost immediately. Cover it with a lid and remove to a separate dish once it is done.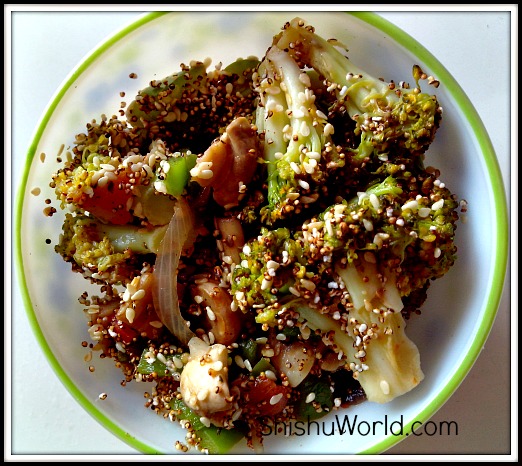 Ingredients
1 cup broccoli florets
½ cup button mushroom quartered
¼ cup peppers chopped(any color)
1 small onion sliced
1 tsp sesame seeds
1 tsp popped amaranth
2 cloves garlic chopped
1 tsp extra-virgin olive oil
Salt to taste
Fresh ground pepper to taste
Dried mixed herbs to taste
Recipe
Blanch broccoli florets by putting them in boiling water for 1-2 minute and then transferring to ice-cold water immediately.
Roast sesame seeds on a skillet till lightly toasted and keep aside.
In a pan, heat oil, add garlic. Saute for a few seconds.
Add onion and peppers and sauté for few seconds.
Add broccoli and sauté well.
Finally add mushrooms and mix everything well.
Add salt and pepper and mix everything.
Cook for 3-4 minutes till water from the mushrooms dries up.
Add the mixed herbs.
Take it off and serve in a serving bowl.
Top it off with roasted sesame seeds and popped amaranth.
Your protein-packed, low-calorie but filling breakfast is ready.