Continued from: Stir-fried Broccoli and Mushroom salad with Sesame seeds and Amaranth
Sprouts Dosa/ Chilla
This one is another healthy protein-rich recipe which can be eaten as breakfast or snack in itself or combined with veggies for a meal. Easy and quick to rustle up, this can become your family favorite breakfast.
Sprouts are one of the richest source of vegetarian protein. The process of sprouting is known to reduce the starch contained in the grains or legumes while amplifying their nutritional value. Whole dal sprouts are rich in fibre too, which is good news all around.
Also check out the Moong dal chilla and Addai or multigrain dosa recipe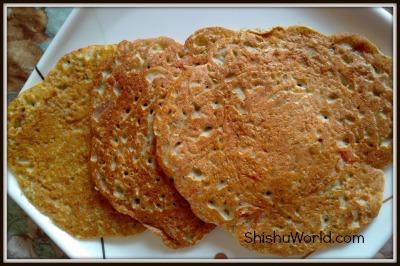 Ingredients
2 cups Mung bean sprouts
2 tbsp besan/ gram flour
1 medium onion finely chopped
1 medium tomato finely chopped
Curd – ¼ cup
Green chillies chopped
Salt and pepper
Water as required
Oil to cook
Recipe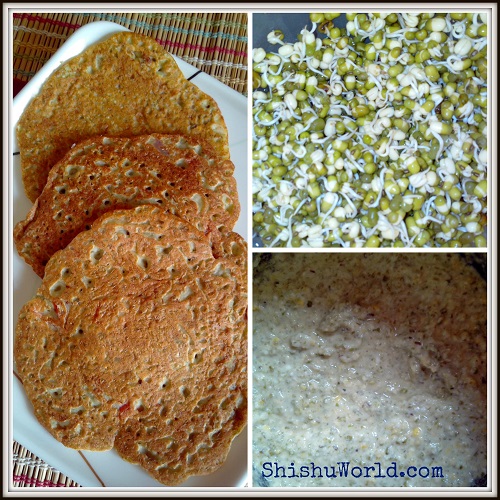 Grind sprouts in mixer to a smooth paste.
Sieve besan into the sprouts paste and whisk well.
Mix in curd and beat into a smooth batter.
Add a little water if batter too thick.
Add salt, pepper and green chillies to taste.
Add chopped onion and tomatoes and mix well.
Keep aside for half an hour.
Heat a non-stick frying-pan and brush a little oil.
Add a ladle full of prepared batter.
Cook covered on simmering heat for a minute.
Check if bottom is cooked and top is not wobbly anymore, flip the chilla/dosa and cook on the other side for 30 seconds.
Serve hot with a green chutney.