Continued from: Vegetable Pulao, Besan Cheela, Ragi recipes
Banana Pancake
Yummy breakfast recipe with goodness of banana. You baby will love this for the sweetness that comes from banana. It also has egg, so it is a full balanced meal in itself. This banana pancake also works great as finger food.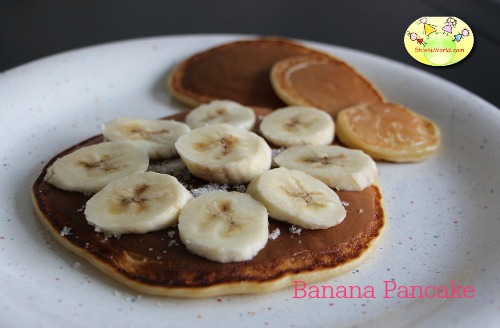 Ingredients
1 cup flour( maida) – You can also use half wholewheat flour(atta) and half maida
2 cups water (You can add less or more to adjust consistency).
1 banana –chopped into small thin pieces.
1 egg ( Use only yolk if white has not been introduced).
1 pinch cardamom powder.
Recipe
1.Make pancake batter, by mixing flour and egg. Beat till smooth and no lumps present.
2.Add banana pieces.
3.Add cardamom powder.
4.Heat a girdle(tawa). Grease with a little oil.
5.Put a small amount of batter on girdle and let cook on one side.
6.Once bubbles appear, turn and cook on other side.
7.Break into small pieces and feed your baby or serve as finger food.
Baby French Toast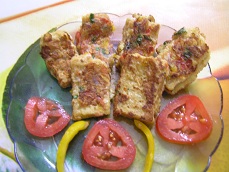 Ingredients
2 slices brown bread
1 egg
1 small pureed banana
½ cup milk
Oil
Recipe
1.Mix together milk, pureed banana and egg.
2.Beat the mixture well to a runny consistency.
3.Cut bread to small bite-size pieces.
4.Heat a girdle(tawa) , put a little oil.
5.Dip bread piece into mixture and fry on girdle.
6.Cool and give to baby.
Check out Sweet and Savoury French toast for toddlers and kids recipes here
Homemade Curd/Yogurt
Curd or Yogurt is very good for baby and is usually the first of dairy products to be introduced to baby, as it is easily digested. Curd is regularly made in Indian households and is very easy to make. You can also be sure of what you are feeding your baby.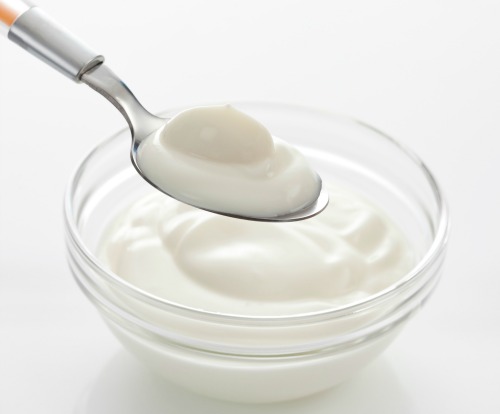 Ingredients
2 cups of full-cream milk
2 tsp curd
Recipe
1.Heat milk to a boil and allow it to cool till it is warm (temperature is important, as lactobacillus needs warm temperature to multiply and convert milk to curd).
2.Add curd to milk and mix well.
3.Cover tightly and leave undisturbed overnight in a warm place.
4.Next morning, curd will be ready.
You can use casserole to make curd, as it maintains the temperature better.
Flavoured Yogurt
This is a great way of feeding yogurt as well as fruits to baby.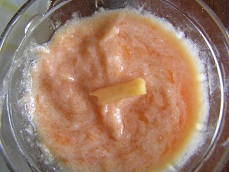 Ingredients
1 cup yogurt
Any ripe fruit (Banana, mango, lychee, papaya )
Recipe
1.Clean fruit and chop into pieces. Puree it in a mixer.
2.Mix yogurt and fruit puree.
3.Add to a glass bowl and set in refrigerator.
Bring  the yogurt to room temperature before feeding baby.

Yogurt Dip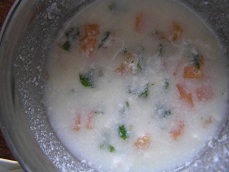 Ingredient
1 cup yogurt / curd
1 tbsp finely chopped/ grated onions, cucumber, coriander leaves
Salt
Roasted cumin powder
Recipe
1.Hand curd in a muslin cloth to remove most of the water from curd.
2.Add salt and roasted cumin powder to hung curd.
3.Add grated onions, cucumber and coriander leaves.
4.Keep in a glass bowl and set in refrigerator.
You can serve this with any of the pancakes, fritters etc.
Sweet Potato Kheer
Very nutritious and loved by babies.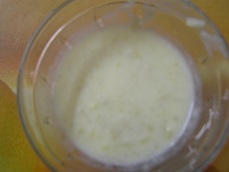 Ingredient
1 Sweet potato
1 cup milk
Little sugar /jaggery
½ tsp cardamom
Recipe
1.Peel sweet potato and boil in a pressure till well-done.
2.Mash well and keep aside.
3.Warm milk and add sugar or jiggery to taste.
4.Add mashed sweet potato to milk.
5.Add cardamom powder.
6.Serve warm or cold to baby.
8 Sweet Potato recipes for toddlers