Continued from: Paneer Bhurji, Paneer bhurji Sandwich
Vegetable Pulao for babies (10-12 months)
Another complete meal for baby. Very healthy and delicious.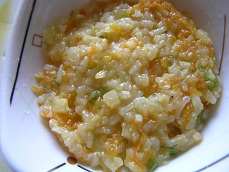 Ingredients
1 cup rice
1 carrot, ½ potato, few peas, beans, 1 piece cauliflower
(Add as many or as few veggies as you like)
¼ teaspoon of ghee
Pinch of cumin seeds
A pinch of turmeric powder, cumin powder
A small piece of bay leaf.
Few sprigs of chopped coriander leaves
Recipe
1.Clean and wash rice well.
2.Soak rice in water for half an hour.
3.Clean and wash the veggies. Chop them into small pieces.
4.Heat the ghee in pressure cooker.
5.Put the cumin seeds till it crackles. Add bayleaf.
6.Add veggies and sauté a little.
7.Add a pinch of turmeric and cumin powder.
8.Add soaked rice and mix with veggies.
9.Add water and pressure cook this for 7-8 whistles, till everything is well- cooked (You should be able to mash them with a spoon).
10.Mash pulao lightly with a spoon and serve for your baby.
Besan Cheela/ chilla/ pooda(Indian style pancake)
Besan is gram flour, frequently used in Indian kitchens to make fritters(pakoras), added to curries etc. Cheela or chilla or pooda is an Indian style pancake. This is a very good option for breakfast for babies, kids and adults alike and versatile enough to be modified to suit anyone's tastes.
Also see moong dal cheela   and sprouts cheela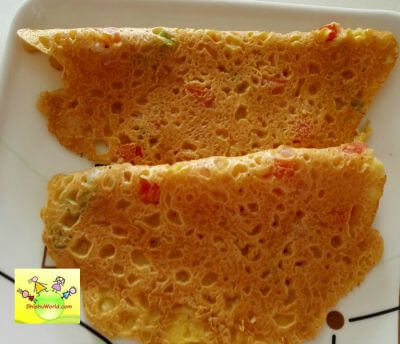 Ingredients
1/2 cup Besan( Gram Flour)
1 cup water (You can add less or more to adjust consistency).
Little salt
Chopped coriander leaves
Any grated semi-boiled vagetables- carrot,onions, capsicum
Oil
Recipe
1.Sieve besan and salt together, so that there are no lumps and it mixes well.
2.Mix veggies and coriander leaves and beat well together to make a smooth batter, so that there are no lumps.
3.Leave aside for 10 minutes.
4.Heat a girdle(tawa). Grease with a little oil.
5.Put a small amount of batter on girdle and let cook on one side.
6.Once bubbles appear, turn and cook on other side.
7.Break into small pieces and feed your baby or serve as finger food.
8.You can serve it with a yogurt dip.
  Ragi recipes for babies
Find 3 ways to make ragi porridge for babies here,
Sweet ragi porridge
Savoury ragi porridge
Also you can find 10 Healthy Ragi Breakfast recipes for kids like ragi idli, ragi dosas, ragi cookies, ragi paranthas, ragi chilla/ cheela, ragi pancake etc.