Recipe ideas for 12 month baby
1 year baby food chart
12 month baby feeding schedule 
Food chart for 12 months baby
Toddler Food Recipes
At 12 months, your baby is ready for toddlerhood and it means her body can handle a lot of variety and most of adult food as long as it is cooked well. 
12 month Baby Food Chart
At the same time, you must take care of your baby's preference. At the age of 1 year, if the child is still not used to chunky food, mash it lightly but avoid giving purees now. Also keep in mind any allergies or family history to the items suggested.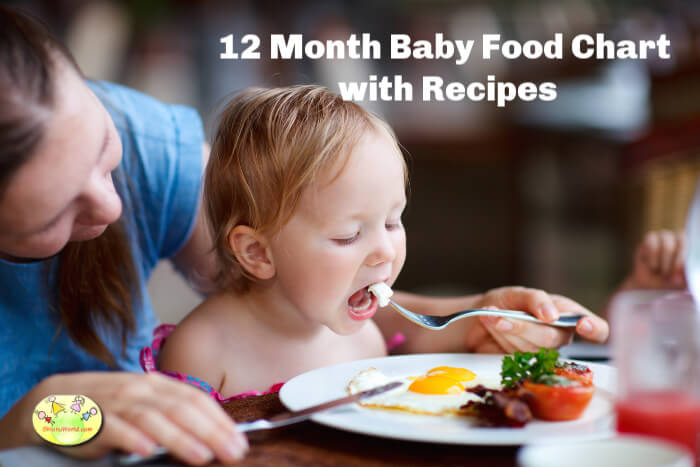 Expected Milestone Achievements by 12 months
Baby can sit on her own.

Baby may/ may not be able to stand and walk independently.
Baby may have more than 2 teeth. Please note that some babies also cut their first tooth around this time.
Video : Daily Routine and Food Chart for 12 months+ Baby
Some points for first time parents of 12 months old babies to keep in mind:
1) Babies may need 20-32 oz of breastmilk/formula/milk at around 12 months/ 1 year, so keep that in mind to limit the milk intake so that baby has enough room to eat solids.
2) You may also start weaning the baby off formula / breastmilk by dropping one feed at a time. Consult with your pediatrician to start weaning or continue as long as you like.
3) After 12 months, you may also want to get rid of bottle gradually, if you give them to your baby.
4) If you still give purees to your 12 months / years old, you MUST stop to avoid issues later. Babies at 1 year are fully capable to chewing and eating solid foods. If your baby shows reluctance to eating lumpy food, try mashing half the food and pureeing other half. Within a week, ditch the pureed food completely.
5) Offer wide variety of foods to baby but do not worry if baby does not finish everything.
6 You might have introduced finger foods by now. If not, now is a good time to do so.
Not sure what finger foods to offer to your 12 months / 1 year old, check out 75+ Finger food ideas for babies,toddlers and kids
7) Have you started Potty Training? If you planning for the same , you might want to look at our Potty Training guide with tips on right way to about it. However, do not worry about it, if your baby is not ready for the same.
How to introduce cow's milk to baby
 If you plan to introduce cow's milk to baby after 12 months, you can. But you must keep a few things in mind.
It is recommended to give only whole milk to toddlers till the age of 3 years, unless it is advised against that by the doctor.
You can give between 400-500 ml of milk in portions throughout the day. Do not give more than the recommended amount as that may interfere with the solid intake of the child.
Do not dilute the milk while giving to toddler.
You can safely give dairy products like curd, paneer, cheese etc. if child is not much interested in milk.
How to replace milk in toddler's diet
We cannot stress enough that these are only guidelines and every baby is different, so there is no need to worry that your baby is not taking everything on the chart. Also, we do not mention the quantities as you should follow your baby's cues.
12 month Baby Food Chart/ Feeding Schedule
| | | | | | | | |
| --- | --- | --- | --- | --- | --- | --- | --- |
|   | Early Morning | Breakfast | Mid-Morning | Lunch | Afternoon | Dinner | Late night |
| Mon | BM/ Formula | | | Chhole rice | Cheese pieces | Chapati with Okra(bhindi) curry | BM/ Formula |
| Tue | BM/ Formula | Vegetable poha | Water melon scoops | Chapati with dal and cauliflower potato curry | | Parantha with paneer bhurji | BM /Formula |
| Wed | BM /Formula | Egg sandwich | Potato wedges | Curd rice with rasam | | Vegetable soup with jeera rice | BM /Formula |
| Thu | BM /Formula | | Cheeku pieces | Rice, dal and green beans | Curd with banana | Rice with egg curry | BM /Formula |
| Fri | BM /Formula | | Banana slices | Kadhi chawal | | Paneer parantha | BM /Formula |
| Sat | BM /Formula | | Cucumber sticks | Chicken soup with bread | Cheeku smothie | Dosa with aloo masala | BM /Formula |
| Sun | BM /Formula | Aloo parantha | Halved grapes | Rice with fish | | Masoor dal Khichdi with curd | BM /Formula |
More Recipes for babies:
20+ recipes for 10-12 months old babies
20 weaning recipes for 6 to 9 months babies
Apple Ragi porridge
3 ways to make ragi porridge for babies
P.S. We do not mention any quantities in food charts as every baby is different and will decide how much he/she wants to eat. We do not advise over-feeding and often worries about babies not being plump enough are misplaced. If you are worried about your baby's weight, you must mention it to baby's doctor. Try not to compare your baby to neighbor's or a relative's child.
Recommended:
Top 10 food to help weight gain in toddlers
Hope this food chart will help you in planning your baby's food. If you like it, do share it in your circle. Do leave a comment to ask a question or let us know your feedback.  You can follow us on Facebook, twitter , pinterest and Youtube
12 month Baby Food Chart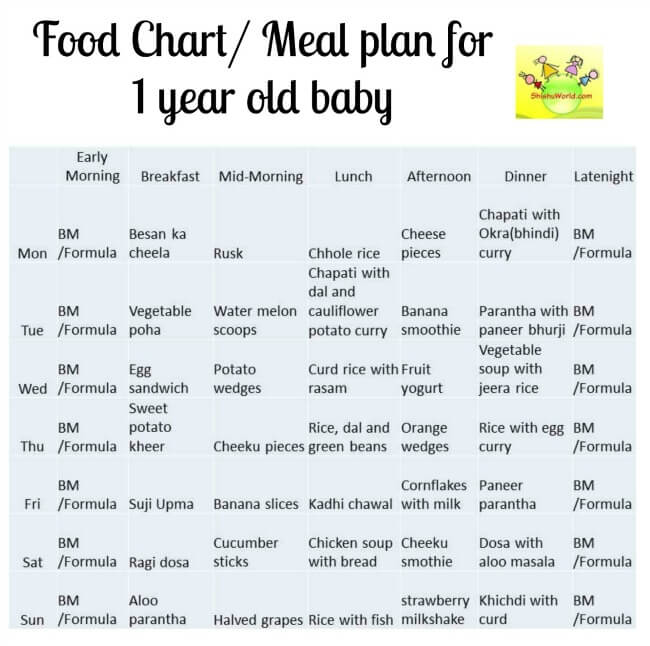 Related:
6 months baby food chart /meal plan
7 months baby food chart /meal plan
8 months baby food chart /meal plan
9 months baby food chart/meal plan
10 months baby food chart / meal plan
11 months baby food chart / meal plan
15 months baby food chart/ meal plan
18 months baby food chart/ meal plan
2 years old Veg food chart / meal plan
2 years old Non-veg food chart/ meal plan
How I potty trained my toddler – Elimination communication vs. Readiness Approach