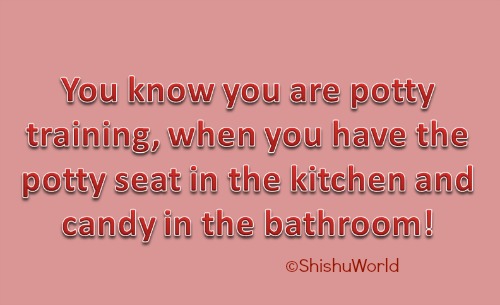 Once your baby reaches toddlerhood, one dreaded milestone for parents is potty training. There are plenty of questions that a first time parent has and there is no dearth of advice too from friends and family, books, websites, so much so that it can be daunting. Let us try to answer a few common questions that most first time parents face.
What is the right time to say bye bye to the diapers?
So your mum and mum in law have been telling you how their children were already trained by this age and most of your friends' children appear to have made the transition smoothly and you have already made some unsuccessful attempts. You will get varied advice from different sources, some telling that they trained their child before she turned one, other telling that they waited till their child was 3.
Just as in all other respects, every child is different in this case too. No single approach to potty training can work for all the kids. Experts believe that most children are ready to be trained somewhere between 18 to 30 months. You must look for signs of readiness in your child and seize the moment.
How to know that your child is ready to be trained?
Readiness to potty training simple means child is aware of bowel movements and can exercise some control over them. Babies do not have any control on movements of bowel and it is their bodies which do the job, but most children start showing an awareness after 18 months. It is usually a grunt while expelling or twisting their face or standing upright in a corner.
Your child might hate the feeling of being wet and peeing in diaper and come to you asking for a change. If you notice this behavior in your child, you may initiate the talk regarding potty training.
What is the right way to go about potty training?
When you realize your child is ready to be trained, start by telling your child about using potty without putting pressure. Showing how grown-ups use the toilet will help too.
Make sure that your child is comfortable in the seat that you have bought. There are many types of seats available, so choose carefully what you think will suit your child. You may even let your child choose the one she wants.
Make potty time special. Keep some special toys which are to be used only during this time. Singing rhymes and songs together or story telling can also make this time fun and more appealing for a toddler.
There are plenty of videos and books on this subject. You might want to show them to your child to make her comfortable with the idea of using the potty instead of diaper.
Some books recommended for this are:
 I Want My Potty  by Tony Ross
My Big Girl Potty
/My Big Boy Potty
by Joana Cole
The Prince and the Potty
 by Wendy Cheyette Lewison
What if the child refuses to be trained?
If your child refuses to use the toilet, just take a step back. There is nothing much that we as parents can do in this situation. We might force the child to go to bathroom, but can not force them to go. This can only make for an unpleasant experience which the child is not going to look forward to in future.
There can be many reasons for child's refusal. One is that using a potty is a new thing for her and as is natural she is skeptical. Just like a new school, a guest at home, a change of place , this is a big step for the child and will take some adjusting to.
Making a big issue can lead to further problems. It is quite common for children to hold back poop because they fear they will be forced to use the potty or they will be scolded. You don't want to have a child with bad case of constipation. There are kids who take many moths to get used to this, so do not feel pressured.
Is it ok to offer bribes to child while training?
It is fine to give small incentives to child to tell you when she needs to go. But it is you who needs to decide what to give. So it is ok to give a sticker or a star if the child lets you know but do not give bribes like giving a chocolate or letting watch TV or cartoon. Such a strategy even if it shows results, will backfire in the long run.
Incentives can be as simple as flushing on their own once done, giving a special sticker or stars, giving some special play time, taking out for a walk etc. These will make your child happy and at the same time you know these are not bad for them.