This month I am starting an experiment which I thought I'd share with all of you.
My daughter, who's 5 and half years old, is prone to catching a cold. Someone suggested that I should give PediaSure a try. PediaSure isn't exactly new to parents and most would have heard about it. I hadn't given it a chance yet, but having heard the positive feedback from several sources about how it's helped kids with low immunity or those who were underweight, I considered giving it a try to see if it helped her.
My daughter has always been a lean child, but I never worried much about it as she's very active and burns calories very fast. Her paediatrician had suggested, few months back, that I should try PediaSure powder, but I didn't follow through at the time. Now I am ready to try it and I thought I will share it here on the blog as part of a PediaSure review so that it will also help readers who have asked me questions regarding PediaSure feedback in the past.
So this is how I plan on conducting this experiment-
I will begin by giving my daughter PediaSure over the course of the next few weeks and will write a follow up post, after a month, with the pros and cons I see in the product. So here goes!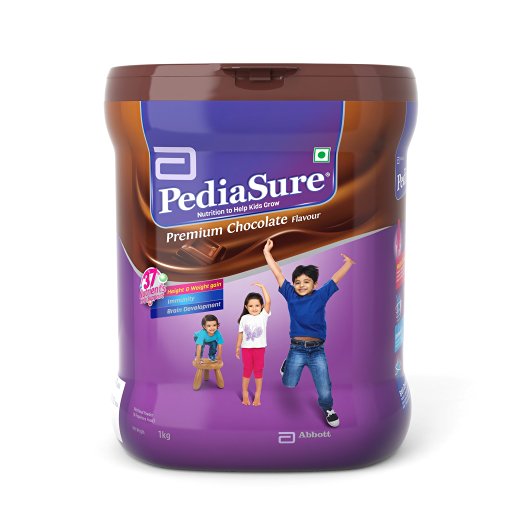 How It Appears
I chose to purchase the Premium Chocolate flavour of PediaSure online but it's also available in Vanilla and Kesar Badam options. The first thing I noticed is that PediaSure has changed its packaging and frankly, it looks quite good. The jar has a flat top which makes it easier to stack in your kitchen cabinet if you need to.
Inside the jar, there's a sealed foil pouch and a measuring scoop, which I feel is a good add-on considering that it ensures you give the exact quantity during every meal.
How to Use PediaSure
There are several instructions and nutritional facts on the jar. But, there are certain things about PediaSure usage that one should definitely pay attention to –
Once the foil pouch has been opened, it must be used within 3 weeks.
You should not empty the contents of the pouch into the jar. Instead, continue to use the pouch and keep the pouch within the jar. This makes sense as the foil pouch ensures the product doesn't attract any moisture. And next time, you can just buy the refill and place that in the same container.
To prepare a 225ml serving, pour 190ml of pre-boiled water in a cup – mainly because the product already has skim milk powder and sugar. Incidentally, PediaSure is not recommended for children with galactosemia or those who are lactose intolerant.
Gradually mix in 5 levelled scoops of PediaSure powder in the water.
The water should not be too hot as mixing PediaSure in anything over 35°C may compromise  nutrition and benefits of the probiotics it contains.
Use it immediately once mixed.
PediaSure claims to contain 37 vital nutrients for height and weight gain.
It promotes immunity development and brain development as well.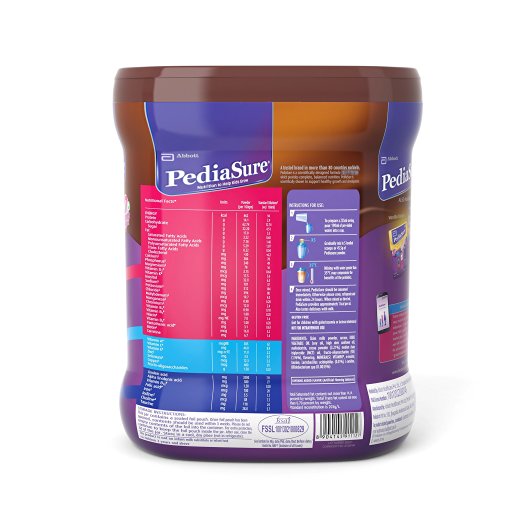 My First Impression
I am quite excited to see how it works for my daughter as many of my friends have used it and have recommended it. It seems that there are several recipes too, so that's a big plus point as it provides variety.
If you want to join me in this experiment and share your experience along with me, please do so. You may buy the product from your local store or you can order PediaSure online from Amazon.
PediaSure powder comes in 3 pack sizes:
200gm – MRP INR 295
400gm – MRP INR 525
1kg – MRP INR 1180