You guys know I have been a fan of Pampers for my daughter. So, when my sister-in-law wanted to know which diaper brand to choose for her newborn son, I recommended Pampers without hesitation. She recently tried the new Pampers baby-dry Pants for her almost 1 year old son and I decided to share the experience here.
Pampers claim that these dry pants are absorbent enough to allow baby to sleep without any change needed through the night.
So here is what we felt.
Packaging:
Great packaging as ever in Pampers green, red and white colors. It also has an easy carry handle on one side making it effortless to hold and carry big packs.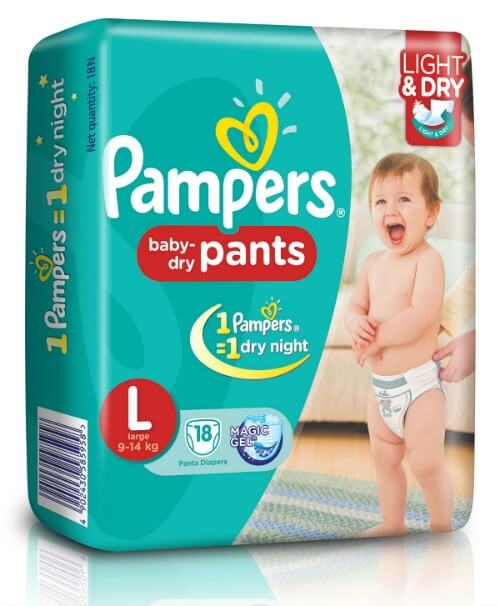 Features of Pampers Baby Dry Pants
The new 3X Channel Technology 
The new Pampers Baby Dry Pants has extra absorbent channels to absorb any liquid faster, keeping baby dry and comfortable throughout the day and night. It evenly distributes the wetness through the diaper pants and keeps baby happy and comfy!.
Magic gel
The magic gel absorbs the moisture and keeps it locked inside leaving the outer layer completely dry and comfortable for baby's skin.
Breathable soft belt and cuffs
The belt around the waist is soft and breathable which helps to keep baby's skin fresh by keeping the air flow and allowing moisture vapour to be transmitted through the material.
Has baby lotion
The diaper's inner layer has baby lotion which again protects baby's sensitive skin from moisture and rashes.
Flexible waist band
The waist band of these pants are very flexible making them suitable for all babies and provide that perfect fit without any discomfort.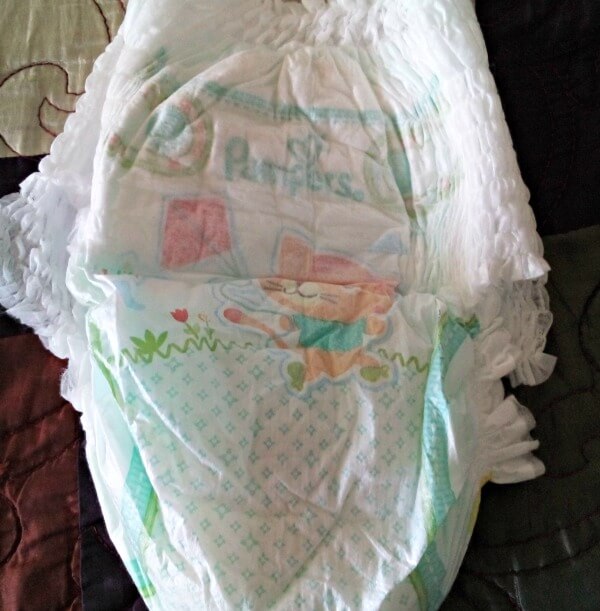 Our experience of Pampers baby dry pants
I found that Pampers Baby Dry pants were better than diapers even for babies. They are easy to put on and are very comfortable. They can be taken off easily by simply tearing the waist band.
Pants are definitely a boon for parents of toddlers who are notorious for opening the straps of their diapers and getting rid of them. Diapers can also sometimes become loose as toddlers continue moving and exploring. The pants stay put in their place no matter how much the movement.
The night time & nap time experience
Afternoon nap
I always puts her baby to sleep in these pants whether it is a nap or to sleep at night. It was noticable that baby pees at least once during the nap of 2-3 hours and the pants are able to keep the moisture in without any problem.
Night time
Earlier the diaper had to be changed at least once during the night so that baby does not have to sleep in a wet diaper, which is the primary reason for diaper rashes etc. But that meant baby definitely got up however gentle we tried to be. And once the baby was up there was no going back to sleep in a hurry. It meant sleepless nights for while rocking, singing and trying to put him back to sleep.
With Pamper baby dry pants, We tried to leave him sleeping through the night but was still worried if it will work. I remember I couldn't sleep the first night, waking up at regular hours to check if the baby needed a change. It looked OK, so I decided to give it some more time and some more time. In the early morning hours when I checked the pants, they were definitely heavy with at least a couple of peeing inside, but I was relieved to see that the out layer was still dry.
The Diapers have been a Godsend! Now we let the baby sleep through the night and also have a peaceful sleep. Good sleep also means baby is not cranky in the morning and is more eager to eat and play. So, it solved one more problem, which was that baby didn't want to eat much for breakfast.
Have you tried Pampers dry baby pants? What has your experience been like?