Packing checklist for a trip with your toddler/ preschooler – With our busy lives, the number of long vacations has considerably reduced and instead most people plan trips over the weekends or when they have a few days off. If both the parents are working and once your child starts school, it takes even more coordination to plan a trip. Gone are the days when you could just take a backpack and go off to a place on the shortest notice. Now a trip requires careful planning, especially with toddlers.
When my daughter was a toddler and even now, her stuff takes a lot of space in our luggage. We have initially made plenty of mistakes and have been caught unawares, but I have now developed a habit of keeping a checklist, which keeps us prepared for most eventualities during a trip. So, I thought of sharing it with all the parents of toddlers and preschoolers.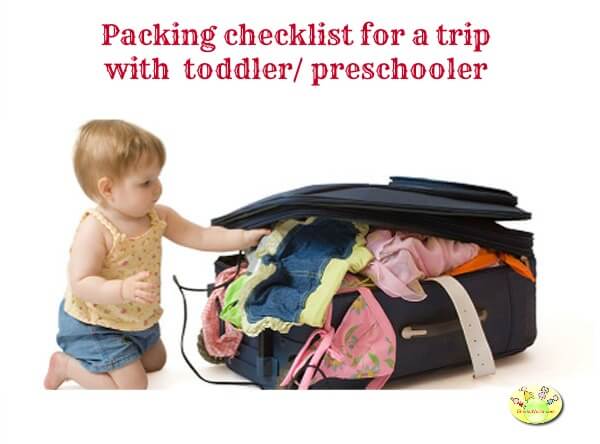 Packing checklist for a trip with your toddler or preschooler
Diaper supplies
Diaper supplies top any packing checklist. Pack enough diapers, wipes, sanitizers and wet wipes to last you during the transit and few extra ones before you are able to purchase more. Carrying extra may also avoid chances of rashes.
Bathing supplies
Next come the bathing supplies. Carry your child's soap, bathing gel, shampoo, oil, lotions, etc. Always take smaller packs for trips instead of carrying big packs. Also, keep a set of small bottles in which you can pour the required amount and carry rather than lugging around the large packs which will not end up getting used.
Mosquito repellents
This is the most important supply to carry. I have a mosquito repellent in my hand bag as well as in my luggage to ensure that I am not caught unawares if I happen to lose one.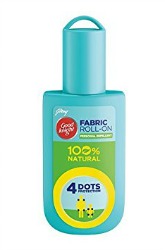 I have been carrying the Goodknight Fabric Roll-On personal mosquito repellent with me wherever I go. Toddlers may get fidgety when one tries to apply lotions and creams. But, with the Fabric Roll-On, all you have to do is apply 4 dots on your child's clothes. It is 100% natural & you can also apply it while they are sleeping, without disturbing their sleep. If you are worried about it spoiling clothes or leaving stains, trust me it doesn't. I have used it enough number of times to know.
For children below the age of 2, Goodknight Patches can do wonders! Both these products are paediatrician certified & hence safe for your child.
First aid kit
Prescription medicines for the child, if any
General medicines like cough, cold, fever medicines
Thermometer
Calamine lotion for any allergies, etc.
Nasal aspirator
Nasal saline drops
Bandages, band-aids, cotton etc.
Clothing
It is important to carry appropriate clothing depending on the expected weather. Take swimming costumes if you are going to a beach or going to swim, warm clothes if the weather might be on the cooler side. I always carry a few extra pairs. If you are planning to attend something formal, it is best to carry an extra good set. Even for your child, always carry extra pairs of clothes.
Toys, Books & Art supplies
When we go for longer trips, it is important to keep kids engaged during the commute whether it is car, train or flight. I always carry simple toys like puzzles and art supplies so that she can draw whatever she feels like. I also carry plenty of her favourite books which she can read during the trip. Books are the best because they are easy to carry and can be used to entertain anywhere.
Other General items
To dispose of anything or to store soiled clothing without spoiling clean clothes.
You can use them as a cover to protect your car seat while eating or use them to clean messes or to dispose of soiled diapers, etc.
So this is my check list for when I travel with my kid. Do you think I have missed out on anything here that you would like to add?