Jaggery benefits for kids and adults – Jaggery or gur is a wonder ingredient that every Indian kitchen boasts of. It is not just a flavourful food item but also has numerous health benefits for children and adults both.
I remember my mother used to give us a small piece of gur every day during winters, when we were young. It was supposed to provide warmth and keep ailments at bay. Of course, we were only too happy to oblige because it is also delicious. Today we look at various benefits of jaggery or gur in our everyday life.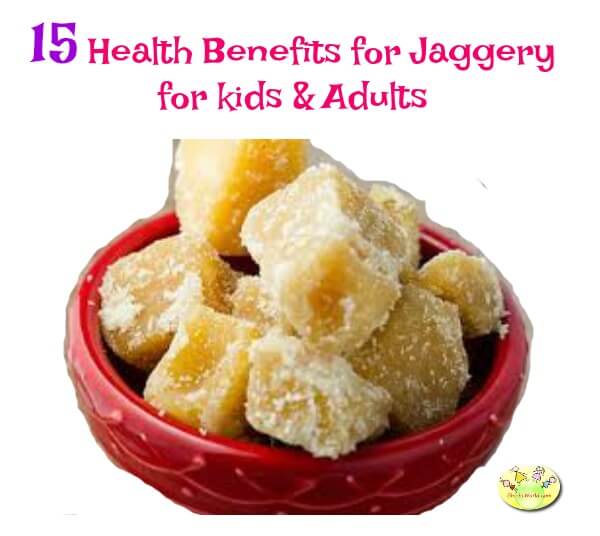 Jaggery benefits for digestion
Jaggery is known to help in proper maintenance of digestive system. It is said that having a small piece of jaggery after food will help in digestion of heavy foods.
Jaggery prevents problems of gas or flatulence
Having a small piece of jaggery after food prevents indigestion and troubles like bloating, flatulence etc. In many places, it is a custom to have a small piece of jaggery after any heavy meal.
Jaggery prevents constipation
Jaggery activates digestive enzymes and aids in bowel stimulation. It is known to relieve and prevent constipation.
Jaggery benefits in better metabolism
Jaggery boosts secretion of digestive enzymes, thus improving digestion as well improving metabolism.
Jaggery benefits for boosting immunity in kids
Jaggery is rich in many minerals as well as anti-oxidants and thus helps in boosting immunity. A strong immune system means less infections and diseases.  Jaggery is rich in zinc and selenium that, as you know, prevent free-radical damage caused by oxidative stress.
Jaggery is a good source of iron
Jaggery is rich in iron and folate. It therefore helps in preventing anemia by helping to maintain normal level of red blood cells in body. It is considered very good for pregnant women too because of being rich in iron.
Jaggery benefits during winters
Jaggery has natural warming properties, so it is recommended that one should have it every day during cold, winter season. Kids can be given a small piece every morning and evening during the winter months to keep cold and cough at bay.
Jaggery benefits in curing cold and cough
Jaggery is very effective in curing seasonal cold and cough. We have shared numerous home remedies for dry cough and cold that use jaggery. Mixed with ghee, it helps in soothing irritation that comes with sore throat and dry cough.
Jaggery home remedy for dry cough
In fact, tilgur or sesame seeds laddoos or chikkis, which are made up of sesame seeds and jaggery are known to be very helpful in keeping away respiratory illnesses.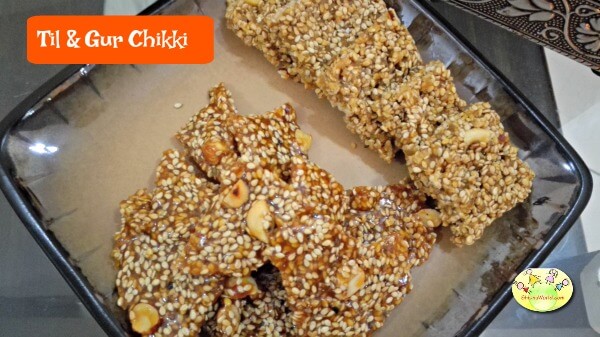 Jaggery provides instant energy, but does not allow blood sugar to spike
One of jaggery benefits is that if you feel low on sugar, it can provide instant energy. It is a complex sugar and does not release energy immediately like simple, white sugar, but gradually thus maintaining blood sugar levels. It is thus a good, natural sugar substitute for diabetics.
Jaggery benefits to treat hiccups
If you have hiccups and it does not get better with plain water etc., then a common remedy is to mix jaggery and ginger powder or saunth and having.
Jaggery is good for people who suffer from allergic ailments like asthma, bronchitis etc.
Black jaggery has properties that regulate the body temperature. Jaggery is also known to have anti-allergic properties, which help in patients who suffer from ailments like asthma, bronchitis etc.
Jaggery for joint pain
Having a piece of jaggery with a glass of milk is known to strengthen bones and prevent problems like arthritis and joint pain.
Jaggery and ghee are also helpful for healing ear pain
If kids or adults have ear pain, a common remedy is to mix equal amounts of jaggery and ghee and have. It is known to relieve ear pain in kids as well as adults.
Cools the stomach
Gur ka sharbat or jaggery sharbat is a traditional drink served in a lot of Indian homes to people who come from outside during hot weather. It helps in maintaining body temperature and keeps stomach cool.
Reduces PMS and menstrual pain in women
Jaggery is also known to provide relief during PMS and menstrual pain in women.
These are some of the commonly known benefits of jaggery or gur. Do you know any other uses of jaggery. Do not forget to share it here.