Navratri is my perhaps the favorite time of year for me. It rekindles loads of happy memories from my childhood. The place that I grew up in was a melting pot of many cultures of India and it was best exhibited during these ten days of festivities, ending with Vijayadashami or Dussehra.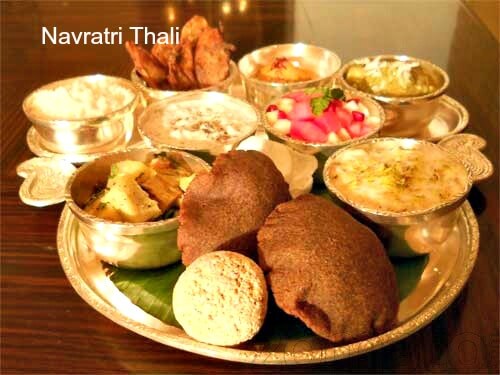 image source: dealsandyou.com
As children one loved the holidays that we got around this time , but more than that the general sense of festivities all around. We used to have simultaneous celebration of Garba/Dandiya, Durga Puja and Dussehra( Ravan Vadha). Now that I live in Karnataka, I have been fortunate enough to have witnessed another beautiful way to celebrate these nine days, Golu festival or festival of dolls.
Well, Navratri may be celebrated in different ways in different parts of the country, but as always food is integral to any Indian festival. I remember how we used to be more than keen to do navratri fasts because of the special goodies that were prepared only this time of the year. I always considered them navratri feasts, not fasts. Basically, devotees fast during the nine days where they give up all grains and eat only fruits, milk, and vegetables and their products.
Some of the most delicious recipes that are prepared during this time are below. The recipes have been modified to suit kids too, so even they can enjoy the delicious food along with you.
Kuttu(Buckwheat) ke pakode
Ingredients
1 cup kuttu ka atta
2 potato (alu)
1/2 tsp rock salt (sendha namak)
1/2 tsp black pepper powder (kali mirch)
Water
Ghee/ Oil for frying
Recipe
Boil the potatoes and cut into cubes.
Make a batter with buckwheat flour, rock salt, pepper powder and water. The batter should be thick enough to coat the potato well.
Mix potato pieces in the batter
Heat ghee/oil in a pan.
Fry the coated potatoes till they are crisp.
Sabudana(Sago) khichdi
This recipe was contributed by my dear friend Charu Mehra.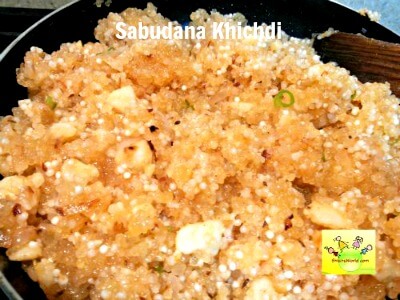 Ingredients
1 cup sabudana (sago pearls)
1/4 cup roasted peanuts (roughly chopped or crushed)
1 boiled potato. chopped
1/2 teaspoon zeera( cumin seeds)
green chilli to taste
rock salt / sendha namak
2 tbsp oil
Recipe
Soak the sabudana for 7-8 hrs in water and drain it, keep it for 2-3 hrs.
Now heat oil in a pan ,add zeera in that.
Add green chilli as you like and fry.
Add boiled potato in that, saute it for 2 min then add sabudana and peanuts.
Mix salt in it and cook  it for 5 min on low heat.
Kuttu ki puri
Ingredients
Kuttu ka atta (buckwheat flour) 1 cup
2 large potatoes boiled
Rock salt (sendha namak) to taste
Pepper powder to taste
1 tsp oil
Oil to deep fry
Recipe
In a deep dish, mash the potatoes well.
Now add kuttu ka atta, salt and pepper and knew into a stiff dough.
Add oil to make the dough smooth.
Keep it aside covered for 15 minutes.
Heat oil in a frying pan.
Roll small pooris using hands.
Fry in hot oil till they puff up.
Serve hot with vrat wale aloo.
Aloo (potato) curry (vrat wale aloo)
Ingredients
2 large potatoes – boiled
1 tomato- chopped
1 tsp oil
1/2 tsp jeera( cumin seeds)
Green chillies to taste (optional)
Pepper powder to taste
Rock salt / sendha namak to taste
1 cup water
Recipe
Roughly break the potatoes with hands into small pieces.
Heat oil in a pan and add jeera to it.
When jeera splutters, add green chillies if using.
Add tomatoes and salute for a minute till they become soft.
Add the broken potatoes and mix well.
Add water and mix well.
Add rock salt and pepper powder to taste.
Let this cook on low heat for about 5 minutes.
Add more water to adjust consistency and serve with kuttu ki poori.
Arbi ki Chaat
Ingredients
4 arbi – boiled and peeled
rock salt
pepper powder
roasted cumin powder
Oil to fry
Recipe
Cut boiled and peeled arbi into slices.
Fry them in hot oil till golden.
Once cool, sprinkle rock salt, pepper powder and roasted cumin powder.
Mix well and serve as a part of Navratri thaali
Kele ka Raita/ Banana raita
Ingredients
1 ripe banana small
1 cup curd
1 tsp sugar
1/4 tsp roasted cumin powder
rock salt to taste
pepper powder to taste
Water as needed
Recipe
Cut banana into thin slices.
Mix sugar, salt, pepper and roasted cumin powder into curd.
Beat well till smooth.
Add water if too thick.
Finally add banana slices and mix well.
Sabudane ki Kheer
Ingredients
Sago/ sabudana – 1/4 cup
Milk 2 cups
Sugar – 1/2 cup
Cardamom powder – 1/2 tsp
Cashew/ almonds chopped- 2 tbsp
Recipe
Wash sabudana pearls and soak them for 4-5 hours.
Heat milk in a heavy bottomed pan.
Add soaked sabudana and stir till it boils.
Now let it simmer for 5 minutes while stirring often.
When kheer starts getting thicker, add sugar and mix well.
Now add cardamom powder and nuts and mix well.
Take off heat and serve cool.
Singhade ke atte ka halwa
Singhada is water chestnut. The fruit is dried and ground to get flour which is used popularly during fasts.
Ingredients
Singhade ka atta -1/2 cup
ghee – 3 tablespoon
sugar – 1/2 cup
warm milk – 1/2 cup
Hot water – 2 cup
Cardamom powder – 1/4 tsp
Almonds and Cashews chopped – 2 tbsp
Recipe
Heat ghee in a heavy bottomed pan or kadhai.
Add singhade ka atta and roast it on low flame while stirring constantly.
One roasted add hot water and stir fast to avoid any lumps.
Add sugar and milk and mix well till all liquid is absorbed.
Finally add cardamom powder and nuts and mix.
Do you have any requests/ questions for us. Feel free to write to us. If you like the post, do not forget to share. You can follow us on Youtube, Facebook, twitter and pinterest.
Related:
30+ Vegetable dishes for babies, toddlers and kids
18 Healthy Meal ideas for kids