Continued from: Spanish Omelette
Bottle Gourd Fritters (Lauki ke Pakode)
Bottle gourd is a nutritious vegetable, which many people do not like. Here is one delicious recipe of bottle gourd which not only kids but every one will love. This can be a great finger food served with any healthy dip.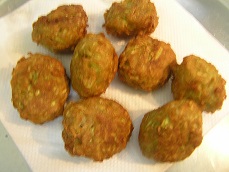 Ingredients
1 medium sized bottle gourd
1 cup gram flour (besan)
Ajwain – 1/2 tsp
salt and chilli powder to taste
Coriander leaves chopped – 2 tbsp
Oil to fry
Recipe
Heat oil in a pan to deep fry.
Peel and grate bottle gourd.
Squeeze out all excess water from it leaving very little.
Add gram flour and ajwain and coriander leaves to this.
Add salt and chili powder to taste.
Mix well so that it becomes a thick batter.
Shape small fritters out of this batter and deep fry till golden brown.
Serve hot with tomato ketchup or cheesy yogurt dip.
Quick-fix Bread Pizza for kids
Pizza is usually a favorite with most kids. But, kneading the pizza dough, preparing pizza sauce and baking for a long time is not always possible. Below is the quick fix substitute which will please both mums and kids will love.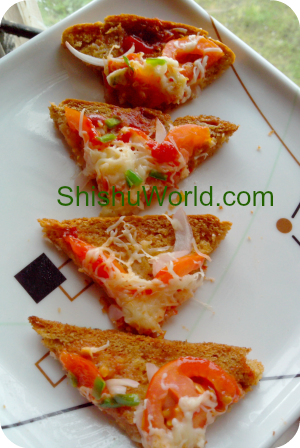 Ingredients
Brown bread – 1 slice
Tomato ketchup
Butter
Sliced onions, capsicum, tomatoes, mushrooms etc.
Mozzarella / processed cheese

Recipe
Preheat oven to 180 degrees C.
Spread soft butter and tomato ketchup on the bread slice.
Top it with your child's favorite veggies. (You may also add cooked chicken pieces or egg).
Grate cheese over the toppings generously.
Bake it the oven for 3-5 minutes or till cheese melts.
Cut into squares or triangles and serve. These are small enough to be picked and eaten as finger food.