Continued from: Beetroot Parantha, Khandvi
Spanish Omelette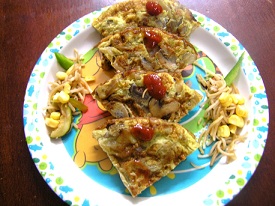 Spanish omellete or Spanish tortilla is made of eggs, onions and potatoes. Here we are adding mushrooms to it as well. You could also add other vegetables which you like. Since it is thicker than regular omelette and quite filling, you can cut it into fingers or any fancy shapes using a cookie cutter so that your tot can easily pick and eat. For the measurements given here, use a small frying pan, else increase the quantities of all ingredients. Use a non-stick pan, else it will be difficult to cook it without breaking.
Ingredients
2 eggs
1 medium sized potato quartered and thinly sliced
5-6 button mushrooms sliced
1 medium onion chopped
2 tbsp Olive oil
Salt and pepper
Recipe
Break eggs in a bowl, add salt and pepper to taste and beat well. Keep aside.
Heat oil in a small non-stick frying pan.
Add sliced potatoes and let those cook for a while.
When potatoes are half cooked, add onions and let those cook.
After few minutes, add sliced mushrooms and saute for about a minute.
Sprinkle a little salt and pepper if needed.
Add the beaten eggs. Spread the mixture well in the pan.
Cover and let cook on medium heat. Keep checking after every minute or so.
Once you are happy that bottom is cooked well and upper part has started firming up, turn the omelette using a flat plate.
Cover the pan with plate and turn upside down. Gently slip the omelette back into pan for other side to cook.
Once it has set completely, slide it out.
Cut into quarters, fingers or any shapes your child likes and serve with tomato ketchup.