Continued from: Mini Sweet Potato Pancake , Banana Topped Pancake
Beetroot Parantha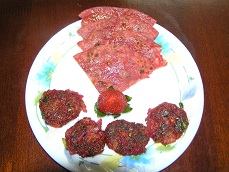 Parantha is an Indian style pan-fried bread. There is a huge variety of parantha from plain to stuffed to sweet.
Beetroot parantha is a beautiful looking parantha. Kids would love to have a pink parantha. You can also tweak it with different fillings of your baby's choice.
Ingredients
Wholewheat flour (atta)
1 Beetroot
1 potato
Salt to taste
Oil/ Ghee
Recipe
Clean, peel and cut beetroot to big chunks.
Boil it with potato in just enough water in a pressure cooker for 2-3 whistles.
Let the beetroot cool down. Filter the beetroot to separate water and veggie.
Grate some beetroot and potato and mash them well together with a little salt and seasoning of your choice. This forms the filling of parantha.
Now knead the flour by adding the beetroot water.
Let it rest for 10 minutes covered.
Take a small piece of dough and roll it to a small puri.
Stuff it with a small amount of filling.
Seal and roll again to a small paratha size.
Once rolled , fry on a tawa or frying pan with a little oil.
Serve after cutting in quarters with curd or yogurt dip.
Khandvi
Khandvi is a quick Gujarati snack made from gram flour(besan) and curd. It is delicious and can be given to toddlers as finger food.


Ingredients
1 cup besan ( gram flour)
3/4 cup curd
Salt to taste
1/2 tsp turmeric powder
2 cups water
For Tempering
2 tsp oil
1 tsp mustard seeds
1 pinch asafetida
1 tbsp grated coconut
1 tbsp coriander leaves chopped
Green chillies (optional)
Tip : Keep steel thalis(plates) ready. You can also use aluminum foil, though plates work well. Plat surface should be clean. There is no need to grease the plates, but you must work quickly.
Recipe
In a big bowl, sieve besan so that there are no lumps.
Add 2 cups water to curd and beat well to make buttermilk.
Add buttermilk  and salt to besan and whisk to a smooth batter.
Put a heavy-bottomed pan on fire and put the besan-curd mixture to it.
Keep whisking vigorously on medium fire. It is important to keep stirring to avoid lump formation.
After about 6-8 minutes, the mixture will start getting thick and leaving the sides of pan. remove from fire.
Immediately put a ladle full of batter onto the back side of a steel thali and spread into a thin layer with the help of a flat steel spatula.
Similarly, spread on all plates.
Leave it to set for 5-6 minutes.
Once it has cooled down, put into refrigerator for 2-3 minutes. This step helps in pulling khandvi cleanly.
Using a clean knife, cut into 1 inch strips. Pull one end carefully and roll till the other end. Repeat this for all plates.
Place ready khandvis in a  serving plate.
Tempering :
Heat oil in a small pan.
Add asafetida and mustard seeds.
Add slit green chillies.
Once mustard seeds start crackling, pour the tempering evenly over khandvis.
Garnish with grated coconut and coriander leaves.
75+ finger food ideas for babies & toddlers