Continued from: Ragi Uttapam, Ragi Chilla, Ragi Pancake with Apple & Cinnamon, Ragi Missi Roti
Apple Ragi halwa
Try this healthy and nutritious no-sugar apple ragi halwa for your baby's breakfast.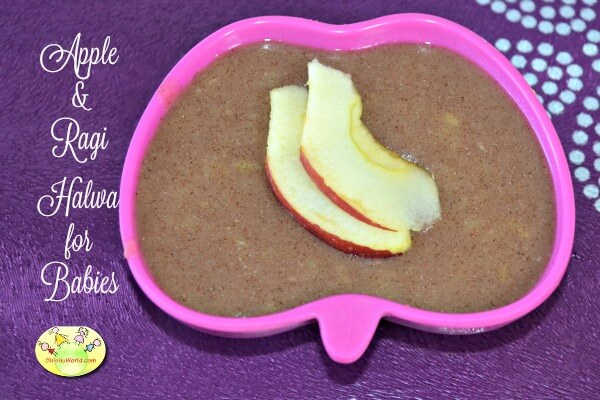 Atta Ragi Ajwain parantha
These paranthas are very nutritious and ajwain makes it more delicious and easier to digest too.'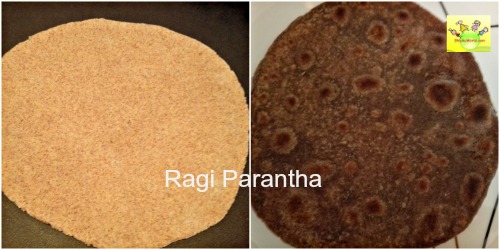 Ingredients
1 cup wholewheat flour( atta)
1 cup ragi flour
2 tbsp curd
1 tsp ajwain(carom seeds)
Salt to taste
1 tbsp  oil
Oil to fry
Recipe
Mix all the ingredients to make pliable dough as you would for parantha. Keep covered for half an hour.
Now roll paranthas using a rolling pin.
Place on a hot griddle or tawa.
When it gets cooked from bottom, flip it and apply oil on top.
Flip again and apply oil on the other side too.
Stuffed Ragi Parantha
Prepare your favorite stuffing like potato or paneer.
Make the dough similar to ajwain parantha dough leaving out the ajwain.
Take a big sized ball and a smaller ball of stuffing.
Now fill the stuffing in the dough ball. Leave aside for 2 minutes.
Now roll it again using dry flour.
Dry on hot tawa or griddle using some oil or ghee.
Multigrain Cookies with Ragi
These are yummy and nutritious cookies which can form great snacks for your toddlers and older kids.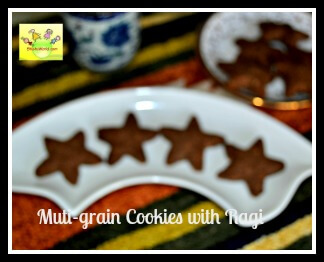 Ingredients
½ cup Ragi flour
½ cup wholewheat flour
½ cup rolled oats
½ cup maida
½ cup sugar or brown sugar
2 tbsp butter in room  temperature
½ cup olive oil/vegetable oil
½ cup milk
½ tsp baking powder
Chopped almonds/ cashews/ walnuts
Recipe
Mix all ingredients to make a dough.
Wrap in a cling film and keep this dough in fridge for a couple of hours. You may even freeze this dough for later.
When you are ready to bake, thaw, roll and cut into desired shapes using cookie cutters.
Sprinkle some nuts on top and bake for 15 mins at 180 degrees or till they are done.
 We will continue to add more interesting recipes to our Recipe Corner. Do you have any requests/ questions for us. Feel free to write to us. If you like the post, do not forget to share. You can follow us on Youtube, Facebook, twitter and pinterest.
 Related:
Homemade Peanut Butter for kids