Continued from: 15 Healthy Ragi/ Nachni/ Fingermillet Breakfast Recipes for babies, toddlers, kids
Ragi Uttapam
This is again an easy variation of the same batter as mentioned above.
Ingredients
Basic batter made using ragi, rice, urad dal, poha and methi seeds
Chopped onions, tomato
Grated carrots
Recipe
Grease a tawa or pan on heat using oil.
Put a ladleful of batter on hot tawa.
Top it with chopped onions, tomatoes and carrots. You may add more vegetables/  coriander leaves  too.
Cover and cook for 2 minutes.
Uncover and pour oil/ghee on sides.
Flip and cook on the other side too.
Serve with your favorite pickle or chutney.
Ragi Cheela/ Chilla
This ragi chilla/ cheela recipe can be given to babies who are 10 months+. It does not have any salt. For toddlers and older kids you may just ass salt and any of your flavourings to taste.
Ingredients
1 cup ragi flour
½ cup wholewheat flour(atta)
½ cup curd
Water to make batter.
Little salt
Finely grated fresh vegetables like carrot, onions, tomatoes, pumpkin etc.
Oil
Recipe
Sieve ragi flour, atta flour and salt together, so that there are no lumps and it mixes well.
Mix curd and coriander leaves and grated veggies.
Add water to make a thin batter and beat well together to make a smooth batter, so that there are no lumps.
Leave aside for 2 hours.
Heat a girdle(tawa). Grease with a little oil.
Put a small amount of batter on girdle and let cook on one side.
Once bubbles appear, turn and cook on other side.
Break into small pieces and feed your baby or serve as finger food.
You can serve it with a yogurt dip.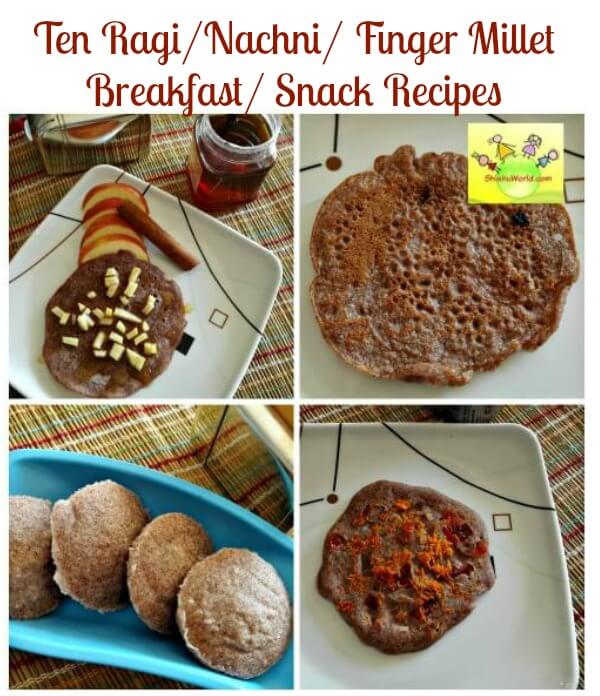 Ragi pancake with apples and honey
Another easy and wholesome breakfast recipe
Ingredients
½ cup atta(wholewheat flour)
½ cup ragi flour
1 apple chopped into small pieces
1 egg
½ tsp baking powder(optional)
1 pinch cinnamon powder
1 pinch salt
1 cup milk
Water as required
Oil as required
Recipe
In a pan , sieve together the two flours with salt.
Add egg and sugar mix well.
Now add milk and beat the mixture. Add water if required to make a smooth batter, not too thick and not too thin.
Add baking powder if using and mix well.
Grease a non-stick pan with some oil.
Add one ladle of the pancake batter on pan in a circle.
Top it with some chopped apples and cook covered for 1-2 minute
Flip and cook on the other side for a few seconds.
Serve topped with honey.
Ragi Missi Roti
Missi roti is a delicious and nutritious variation to regular roti. We can add ragi flour to this too.
Ingredients
1 cup atta ( wholewheat flour)
1 cup besan (gram flour)
1 cup ragi flour
½ cup fresh chopped methi (fenugreek leaves) or 2 tbsp kasoori methi
1 tsp cumin powder
1 tsp coriander powder
Chilli powder to taste
1 tbsp oil to mix in flour
Salt to taste
Water to knead the flour
Oil to fry the rotis
Recipe
Mix all the ingredients and make a nice dough adding a little water at a time.
Cover the dough and leave it to rest for half an hour.
Now take medium sized balls of this flour and roll them using some dry flour.
Heat a tawa or griddle and place the roti on it.
Once it is cooked on one side, flip and apply some  oil.
Cook on both sides and apply little oil.
Missi Roti with onions
Follow the same recipe as above, just replace the chopped methi with finely chopped onions.