How to make Healthy Pav Bhaji with Beetroot for kids
Snack recipe – healthy pav bhaji
Bhaji recipe with no color
How to make Healthy Pav Bhaji with Beetroot for kids- Pav bhaji is a delicious street food, which can be made healthy and you can sneak even the most un-favoured of vegetables in this. The bhaji, that you get outside, is usually laden with sub-standard butter/oil and food colors and god-knows what spices. It is very easy to make and does not take a lot of time. I add all kinds of vegetables like pumpkins, brinjal, beet roots etc.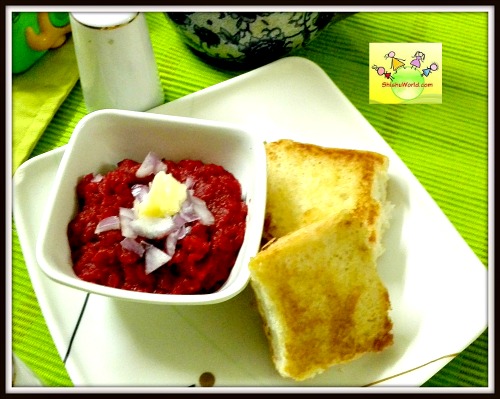 If you are using brinjal, make sure it doesn't have seeds. Adding beetroot also gives a beautiful red color naturally and there is no need to add food color or chilli powder.
Ingredients
4 cups mixed vegetables – potatoes, cauliflower, pumpkin, beans, beetroot, peas capsicum and any other vegetable
1 tbsp of homemade bhaji masala
1 tbsp oil
½ teaspoon cumin seeds
2 onions chopped
2 tomatoes chopped
1 tbsp butter
Coriander leaves chopped
Lemon juice to taste
Salt to taste
Recipe
Pressure cook all vegetables except capsicum and peas with a little salt till well-cooked.
Mash using potato masher and keep aside.
In a heavy bottomed pan or kadhai, heat oil.
Add cumin seeds till they crackle.
Add chopped onion till translucent.
Add capsicum and fry for 2 minutes.
Now add chopped tomatoes and peas fry till soft.
Now add salt and pav bhaji masala and fry well, till oil separates.
Now add the cooked and mashed vegetables and mix well.
Cook till moisture evaporates.
Finally add butter and mix well.
Garnish with chopped coriander leaves and squeeze a lemon.
Serve the bhaji with buttered pav.
Recipe contributed by Reena K, a mother to a 3 years old and a passionate reader and crafter.