Chocolate is most kid's favourite!! Well, that's not the case with my kid and happily so!! So, I do not mind giving her occasional treats which have chocolate in them like choco-muffins or these yummy and healthy pancakes. Strawberry being her favourite fruit, this milkshake is a no-brainer. She can finish a box of strawberries just like that!!
This is a sweet treat for your kids which will have them asking for more. We have used wholewheat flour for pancakes here, which makes it a wonderful, wholesome and filling treat for breakfast. You may also replace the sugar with brown sugar or powdered jaggery if you wish. Serving it with this strawberry milkshake will make it a complete meal, atta, egg, fruit and milk and it does not take very long to make. 🙂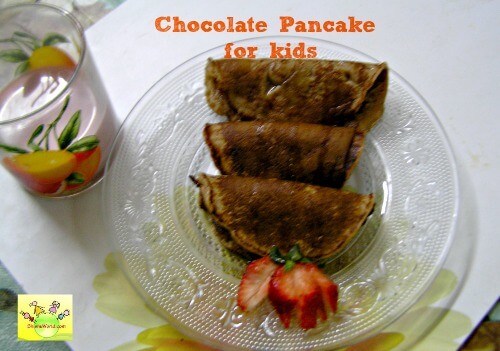 Chocolate Pancake for Breakfast
Ingredients
1 cup atta (wholewheat flour)
1 egg
1 tsp sugar
1 tsp coco powder
Milk – 1 cup
1 pinch Baking powder( optional)
Oil / Ghee
Recipe
Mix atta and egg and mix well together.
Add milk to it to adjust to a flowing consistency.
Add sugar and coco powder by dissolving into a little milk.
Finally add a pinch of baking powder and mix well.
Let the batter stand for about 10 minutes.
Heat a small frying pan and grease using oil or ghee.
Take one ladle full of batter and put on frying pan.
Let it cook on medium heat till bubbles appear on one side.
Turn and cook on second side as well.
Serve with chocolate syrup or honey on top.
P.S. Using only atta will make the pancake slightly denser. If you do not like the texture and want the pancake to be lighter, you may use 50:50 atta and maida(refined flour).
Strawberry Milkshake
Milkshakes are a great way to give milk and fruit and they get ready in a jiffy.
Ingredients
1 cup cold milk 10-12 sweet strawberries sugar/brown sugar to taste
Recipe
Wash and hull the strawberries ( cut out the stalk, leafy part of the strawberries). Cut them into quarters and put in a blender. Add milk and sugar as needed and to your taste. If strawberries are sweet, you may not need sugar, else add as you and your kids like. Blend till very smooth. Pour in glasses and serve.