This is one of the most requested recipes from our readers. Though it is very simple, but people often have trouble in making a nice dry fruit or nuts powder. It sometimes turns into paste or is not fine enough. Here we tell you the trick to make the perfect dry-fruit powder, which you can give to babies, toddlers or even older kids.
Nuts are a super food and have been given to children by mums and grand mums since time immemorial. I still remember my mother used to soak almonds at night and would make us eat them early in the morning. My daughter is not very fond of nuts except for cashew nut, so I make this powder and add it her porridges, halwa, kheer, even savoury foods. 
What are the benefits of dry fruits powder/ nuts powder?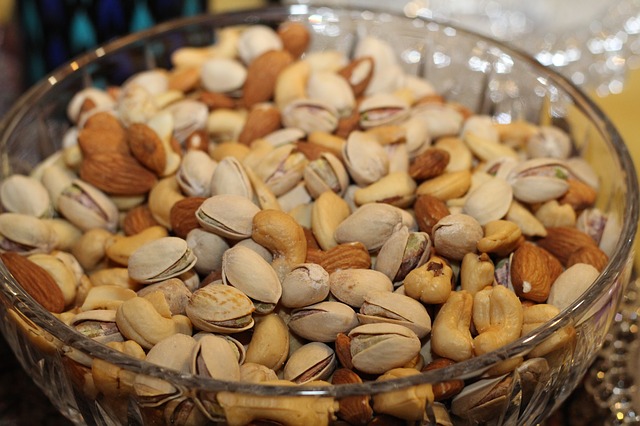 Nuts and dry fruits are not just packed with healthy protein, but also are great for a healthy heart and brain.
Nuts are rich in unsaturated fats, omega-3 fatty acids, antioxidants, vitamin E and fiber. Nuts help in healthy growth, development and learning in kids.
Nuts and dry fruits are also high in calories and can help in weight gain in underweight children.
Nuts and dry fruits are also known to improve immunity in children.
Nuts and dry fruits are very good brain foods and can help in brain development and good memory. 
How to make dry fruit powder for babies, toddlers & kids
Making dry fruit powder is fairly simple. We also have this video to take you through step by step procedure of making dry fruits powder in a simple way. We also share the trick to ensure that your powder remains a powder and does not turn to a paste.
Ingredients
1 cup almonds
1 cup cashew nuts
1/2 cup pistachio nuts
1/2 cup walnuts
25-30 saffron strands
Recipe
Heat a pan and dry roast almonds on all sides till they change color slightly and appear to be crunchy.
Take them out and put on a plate to cool down.
On the same pan, dry roast cashew nuts and keep aside to cool down.
Now dry roast walnuts and pistachios and cool them too.
Dry roast saffron on a few seconds and keep them aside.
Now put everything in a blender jar and grid to a fine powder.
While grinding, use the pulse mode or grind for only 10-15 seconds at a time.
Tips:
Do not roast all nuts together as they take different times to get roasted.
Let the nuts cool down completely before grinding.
Grind the nuts in small pulses of 10-15 seconds. This ensures that nuts do not release oils and turn into paste.
Keep stirring the powder after every pulse with the help of a spoon.
You can also add other nuts that your child likes like hazel nuts or peanuts.
How to use dry fruit powder/ nuts powder for babies, toddlers, kids?
You can add this dry fruit powder in child's food in many ways.
You may add it to milk with a little bit of sugar and make a delicious drink similar to badam milk. Do not forget to check out our Instant kesar badam milk powder.
You may add this powder to breakfast cereals, porridge, oatmeals to increase the nutrition levels instantly.
When you make a halwa, add this powder at the end to increase nutritional value as well as enhance the taste.
You may add this to laddoos like atta laddu, besan laddu etc.
You may also thicken milk, add sugar and dry fruit powder and freeze to make a quick homemade kulfi.
Is this dry fruit powder safe for babies?/ At what age can we start giving this dry fruit powder?
Nuts can sometimes cause allergies in babies, hence it makes sense to be cautious when introducing nuts in baby's diet. You may give this powder once baby is 10 months and above.
It also makes sense to avoid this dry fruit powder, if you have a family history of nut allergy.
When you start giving this dry fruit powder, give a very small amount on the first day. Keep an eye for any allergies or reactions for next couple of days before gradually increasing the quantity.
Recommended:
Instant Badam Milk powder/ Almond milk powder
Brain foods for kids to increase brain power in kids