My daughter recently turned 6 years old. Those of you who follow us know that I am a doting mother and my day starts with having a cup of tea and getting my daughter ready for school.
My daughter is usually an early riser and gets up on her own by 7 am. So, that's no problem. But the problem starts after that. So, she wants to get up and read in the morning or ride her bike. I have to keep pushing her to go to the bathroom and then have her breakfast, both of which take forever. Phew!! I know most moms can relate to this scenario. 🙂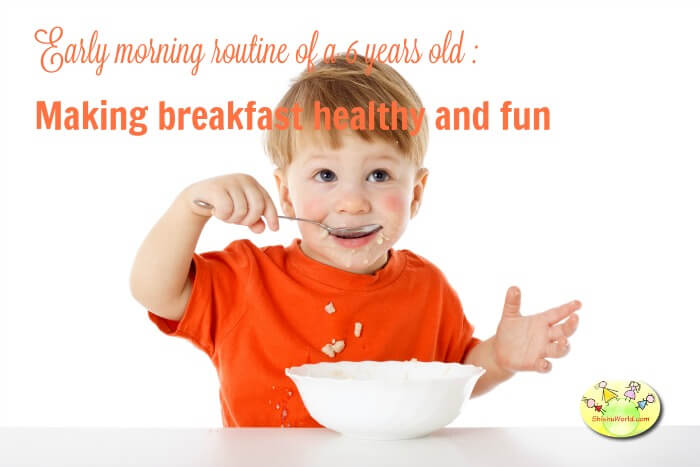 I am very particular about her having a healthy breakfast in the morning and she is not allowed to ever skip breakfast and go to school. Given her routine during morning, I prefer things for her breakfast which are quick to make and still are healthy and nutritious. Breakfast is the most important meal of the day and research has proven that kids who have a healthy breakfast are more attentive in the school and perform better.
A healthy breakfast should ideally contain whole grains and milk in some form. I also have to pack one snack and one lunch for my daughter, so I usually prefer something which she enjoys and can have quickly without me having to monitor. Breakfast cereals are always handy, when it comes to ease. However many of them have high content of sugar and preservatives which I am not comfortable with.
For a quick breakfast option, I quite like the Soulfull breakfast cereals. Their range of breakfast cereals ticks all my boxes. They are made from whole grains and traditional super foods like ragi and dal. Ragi is high on calcium and is very good for health. Ragi has been given to babies as a weaning food since time immemorial. The cereals are preservative-free and are available in many pleasing flavours for children like chocolate, vanilla, mango & strawberry.
They also have a range of millet muesli for grown ups. The best part is that their muesli is sugar-free, preservative-free and even gluten-free,  The muesli  have real nuts.
For us breakfast time has always been a bonding time and those who know me know that both me and my daughter are avid readers. She loves reading books and listening to stories and breakfast is a time when we also tell stories. We have this fictional character named 'Ruby', which I weave my stories around to teach her about healthy eating, good manners & hygiene. We also modify the old tales to suit what we believe in and to reinforce the values that I want to instil in her.
I frequently feel that the old fables are not relevant in current times in their original form. I don't want my child to wait for a prince charming or hope for miracles to solve all her problems.
So, we changed "Jack and  the Beanstalk" where Jack does not steal things but makes friends with the giant and giant teaches him how to plant seeds and grow his own vegetables and he works hard and has a wonderful farm.
Our "Goldilocks and the three bears" , ends with Goldilocks thanking the bears for porridge and saying sorry for breaking the chair. Baby bear and she become friends.
Soulfull has come up with a similar concept and I was excited to see it. They have given a new spin to old fables like 'Town mouse & Country mouse', 'Hare and the Tortoise' and many more. I know where I can go now, when I am running out of ideas. The best part is the stories keep children engaged and are set in modern times which children can relate to, so it is much easier to drive your point home.