How did Shilpa Shetty lose weight post pregnancy?
How to lose pregnancy weight after delivery?
While most women would agree that motherhood is the biggest joy in their lives, they will also admit that it brings with it umpteen challenges. One thing that most of us struggle with is the weight loss after delivering our little bundles of joy. Many of us also wonder how these celeb mom manage to look the way they look so soon after delivery. This post is all about how celebs lost weight post pregnancy, their fitness regime and diet.
Shilpa Shetty's fitness regime and diet 
Shilpa Shetty's name comes first to your mind when you think of  celebrity yummy mummies. She seems to be getting fitter and prettier with age. Who would say she is 40 years old and mother to a 4 year old.
She had gained 20 kgs of weight during pregnancy due to diet rich in whole milk, ghee and white butter. She waited for 4 and half months after delivery to start working out again. Under the guidance of her fitness trainer, she started light exercises like walking and cycling for about 20 minutes. She gradually increased the intensity of her workouts. She lost 18 kgs during the next 10 months.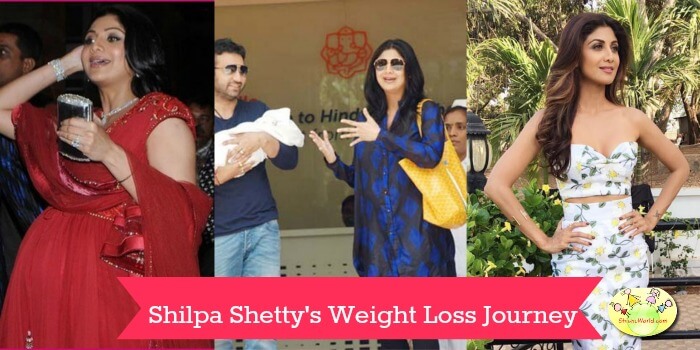 Shilpa Shetty's Diet
Shilpa Shetty believes in eating healthy and not dieting to lose. the same has been advised in her book "The great Indian diet" too. She eats simple Indian diet now.
At the time when she was in the process of losing weight, below is her diet as shared with a leading newspaper.
She used to start her day with a glass of amla juice and a plate of papaya.
After half an hour she used to have two whole eggs – omelette, boiled or scrambled. The yolk is full of vitamin A, D, E and K.
Between lunch and breakfast, she drank a glass of tender coconut water. She cut down her rice intake from a large bowl to a small bowl, and instead of four rotis she ate two.
Her lunch consisted of brown rice or two quinoa rotis, a daal, fish, a green vegetable and egg bhurji.
An hour or two after lunch, she drank a glass of slim dahi buttermilk.
She had tea in the evening with brown sugar, walnuts and cashew, a slice of cheese and Ryvita crisps.
For dinner, she ate a lettuce salad filled with veggies, a turkey slice and olive oil. If not that, she ate a salmon steak and sour soup.
To lose the baby weight, she alternated between carb and no-carb days. On no-carb days, she skipped the chapatis and rice.
She replaced whole milk with slim milk and drank a glass before going to bed.
To maintain her weight now, she follows simple Indian diet of dal, chawal and vegetables. She has given up unhealthy foods and aerated drinks. She is also very careful about her son Viaan's diet and does not allow chocolates and colas.
Shilpa Shetty's Workout routine
She is a firm believer in yoga and is yoga guru herself. Having allocated five days in a week to all the workouts, she practices yoga for two days, strength training for another two days, and cardio for one day.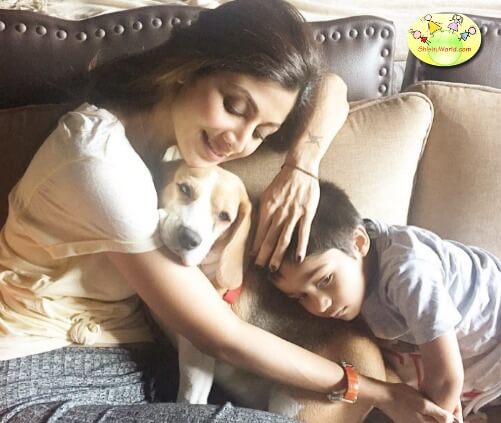 Check out Shilpa Shetty's son's 4th birthday party pics here.
Malaika Arora Diet and fitness secrets
Malaika Arora is the original yummy mummy from the Bollywood world. Who can say that she is mom to a 14 years old young man.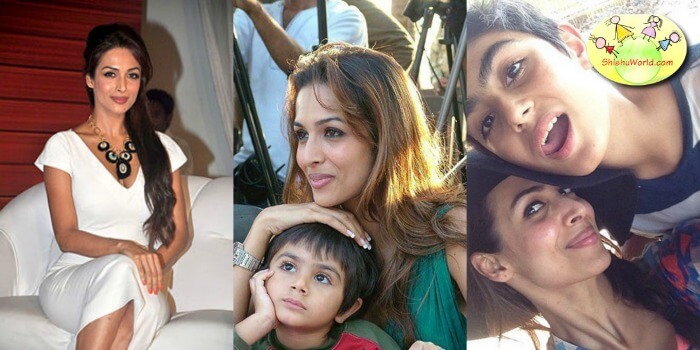 Malaika Arora Khan's Food and Exercise Routine
She believes in staying hydrated and consumes water, coconut water and vegetable juices throughout the day.
Malaika Arora's diet includes
Starting the day with warm water with honey and lime
Using extra virgin olive oil for cooking in moderation
She takes frequent small meals during the day
Early dinner by 7:30 pm
For breakfast, she prefers egg whites, poha, idili with a bowl of fruits
Her lunch consists  

brown rice, jowar or bajra rotis
chicken / fish
green veggies/ sprouts
dal

Dinner consists 

Grilled salmon
soups
steamed veggies
salads
She stays away from
Fried food
Oily food
High salt food
Junk foods in general
Malaika Arora's Exercise routine
She follows yoga, pilates, free weights exercise routine. She also follows dance forms which keep her fit as a fiddle.
Karisma Kapoor diet and exercise routine
Karishma Kapoor looks even prettier now than before and she is a mum to 2 children Samaira and Kiaan Raj Kapoor. True to her genes, she is a complete foodie and enjoys food. Let us see how she keep fit and radiant looking.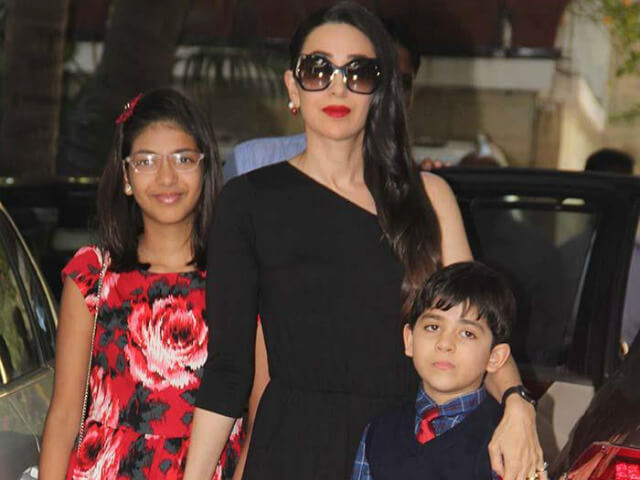 Karishma Kapoor's Diet 
Karishma Kapoor does not believe in crash diets and instead believes easting healthy home cooked meals through out the day.
She starts her day warm water with lime juice
Breakfast consists of cereal like oatmeal/ egg whites
Mid morning snacks are fruits, vegetables, salads
Lunch comprises homemade dal, vegetables, chapati and rice
Dinner is soup and vegetables
Plenty of water to keep herself hydrated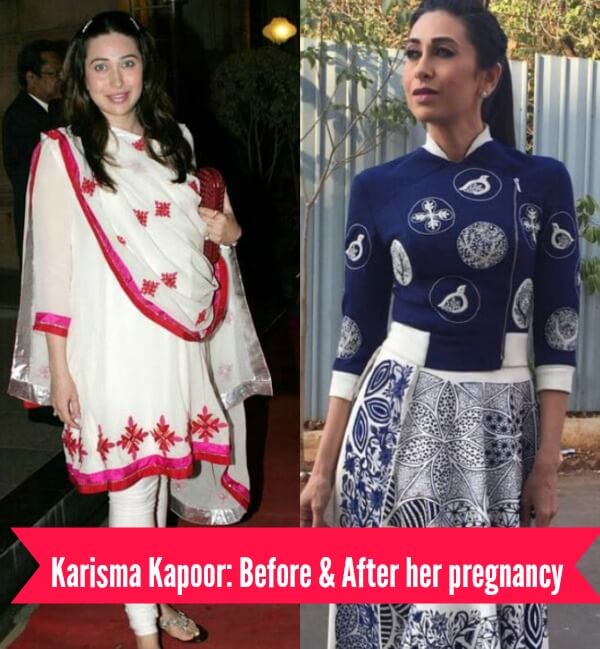 She stays away from extra sugar and takes her tea, coffee without sugar in them.
She works out in gym with her personal trainer and practices yoga to keep herself fit.
Tara Sharma diet and exercise routine
Tara Sharma's name has become synonymous with motherhood, after her show "The Tara Sharma show". She is mother to two sons Zen and Kai and looks as ravishing as ever. She was back to her pre-pregnancy weight within 2 weeks of her delivery. She had put on 12 kgs during her pregnancy.
She said, "Fortunately for me, my body stayed the same except my stomach, so post the delivery I literally came out of the hospital in my jeans."

While it may be a tall order for many to emulate what she did, let us have a look at her diet and fitness regime.
She believes in eating everything in moderation. She added a lot of fruits in her diet during pregnancy.
She avoids very oily food.
Her workout consists of running and yoga. She runs every morning for atlas 15 minutes. She recommends exercising everyday as much as possible during pregnancy to keep fit.
Shruti Seth – Diet and fitness screts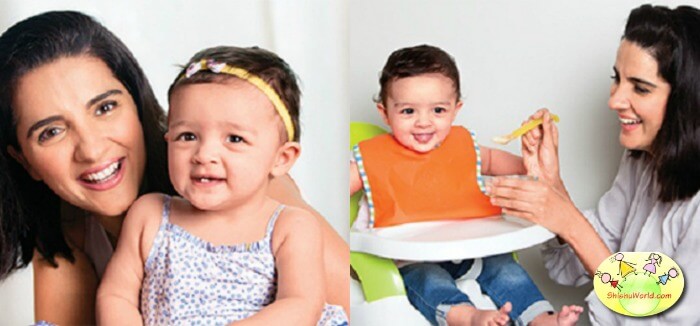 Shruti Seth is the new yummy mummy on the block. She also did not gain a lot of weight during pregnancy and gained only about 9 kilos.
She believes in eating right and at correct time. She has healthy breakfast, a moderate lunch and a light dinner. She eats every two hours to keep her metabolism up.
She exercised every single day during her pregnancy after her first trimester. She credits her hormones for being kind to her so that she did not put on a lot of weight.
Her workout comprises yoga, pilates and swimming. She started her weight loss journey with simple exercises like walking and swimming and went back to yoga after some time. She lost about half a kilo per month post pregnancy.
We hope these celebrity diet and fitness regimen will help you in your own weight loss journey post pregnancy. One thing that we can learn from all their routines is that there are no short cuts and all of them have followed healthy diets and consistent exercise to get back to their pre-pregnancy weight. One more thing that we can see is that no two pregnancies are alike so what works for others may not work us. Crash diets are a complete no-no and healthy lifestyle and discipline is the only way to a fitter you.