Summer Vacation Activity : How we planned a Lemonade stand
Running a lemonade stand for kids
Summer vacations are on and we are having a good one so far. My 2nd grader is having a wonderful time with her friends and is spending time playing, reading, exploring and doing whatever pleases her. We have not opted for any summer camps and she decides how to spend her day.
She planned a pool party for her friends the first day of the vacation and I am going to talk about it in another article but this article is about a lemonade stand that she and one her friends put.
So, if you follow this blog, you know my daughter is an avid reader and she got the idea of setting up a lemonade stand from a book itself. So, she had been thinking about it for a couple of months, but I had told her to wait till the summer vacation. Another of her friends too got the idea from the same book and those too are also great friends, so they planned things quite well.
The boy's mother and I too happen to be good friends and so when she proposed that we make this happen for them, I was all for it. It really did not take a lot of work on our side. A little bit of planning and permissions from the apartment association were of course needed.
We decided that if we wanted customers to be interested, we need to have more than one flavours. We decided on :
Lemonade
Orangeade
I also thought about adding options like masala lemonade for a little more price, but that would have required intervention from us and we wanted them to handle majority of the work. So, it was just these two options. Also, this was a fun project with no intention of earning money out of it, hence the price of a glass was kept bare minimum, Rs. 5 per glass.
I designed a banner/ advertisement for them and floated the same in our apartment's groups. Below is the simple invite/ banner.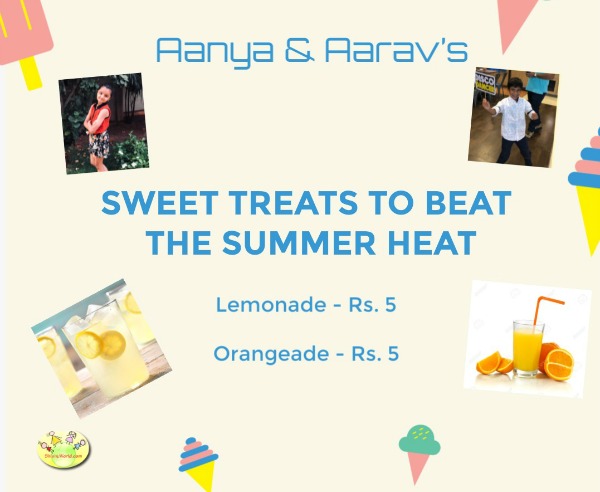 After the initial guidance, the kids handled the customers all by themselves. They spoke to them, explained their offer, took money and gave back the balance. In short, they had a full experience of running a small shop. 
They even went around advertising their shop and tried to bring customers to the shop. Here are some of the pictures, which can best explain the whole experience.
The stand was a big success and a complete sell-out. Everyone from the apartment encouraged and helped them in the process.
Hope you found this idea helpful and will do something similar with your kids too. Trust me, it is something they will not be able to forget in a hurry.