You might remember we shared how to make Soya Milk at home. After extracting the milk from soaked soy beans, we were left with the bean paste, which is still full of nutrition and we do not want to waste it.
This dal paste can be used in many ways, as a filling in paranthas, in curries or chops and cutlets. Today we will make tikkis or chops out of them. This is a healthy and yummy snack for kids.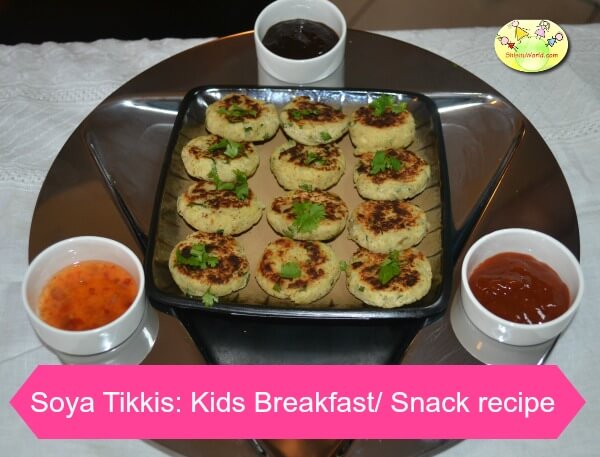 Ingredients
1 cup Soya bean dal paste
2 boiled potatoes mashed
1/2 tsp Garam masala
1/2 tsp Chaat masala
Salt to taste
Pepper to taste
Chopped coriander leaves
Oil to fry
Optional
Finely chopped onions
Green chillies
Recipe
Take soya bean dal paste in a big bowl.
Add boiled and mashed potatoes.
Now add salt and all the spices to your taste..
Mix everything well using your hands till you get a uniform mixture.
Finally add the coriander leaves and mix well.
Now take small amounts of this mixture and make balls in your hands. Then flatten them using your palm to make tikkis.
Make tikkis of all the mixture in the same manner.
You may keep these ticks in fridge for about half an hour. This will ensure ticks do not break while frying.
Take a little oil in a frying pan. We are going to shallow fry these, so you do not need to put a lot of oil.
Once the oil is hot, turn the flame down and add ticks one by one.
Now roast these ticks on medium heat till you get nice golden color on both sides.
Serve these tikkis with your child's favourite dip.
Tips:
You may add finely chopped onions to this. It taste delicious.
If you child likes chillies, feel free to add finely chopped green chillies to the mixture.
You may also stuff these ticks with stuffing like pomegranate seeds or a dal mixture.
This tikki can be served with tomato chutney, green chutney or even a yogurt dip.
You can also serve these ticks in between 2 slices of bread or buns along with salad to make a sandwich or burger.
Do let us know how you liked these protein rich and healthy soya tikkis. Do not forget to share in your circle and leave us a comment if you want us to share something specific.
Recommended:
35+ Breakfast/ Snack recipes for kids
7 protein rich recipes for kids
8 Sweet potato recipes for kids