Golden milk or turmeric latte has been gaining popularity in western countries for its antioxidant properties. It is nothing but the same haldi wala doodh which our mothers and grandmothers have been giving to us whenever we had an injury or cold.
It is also known to boost immunity and protect kids from bouts of seasonal . cold and cough.
Golden milk is basically turmeric milk and turmeric or haldi is one of the most effective kitchen ingredient with countless medicinal properties. Turmeric is used everyday in most Indian kitchens and used in many Ayurvedic medicines. Turmeric contains curcumin which has strong antioxidant properties.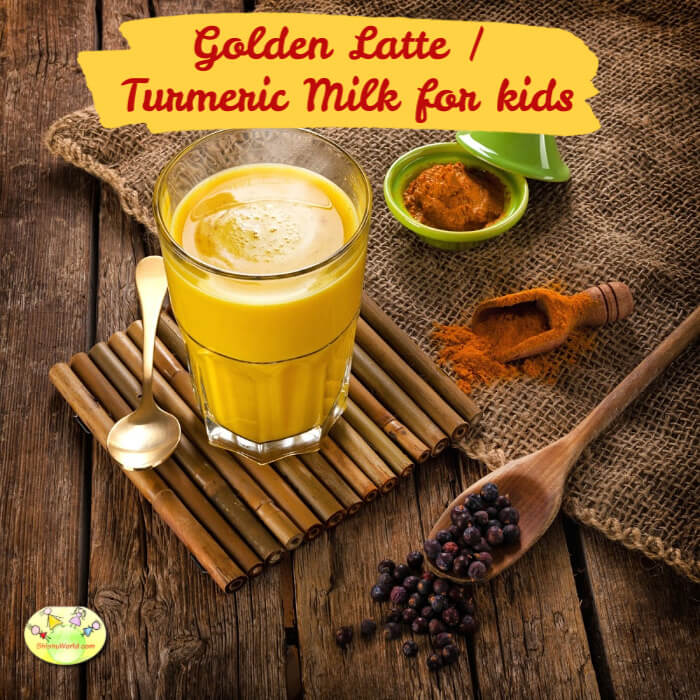 Medicinal properties of turmeric :
Has antimicrobial properties
Is a well-known immunity booster
Is very effective in treating respiratory illness
Is an effective remedy for cold and cough.
Turmeric water gurgles are the best for sore throat.
Has anti-inflammatory properties and is commonly given if you get an injury.
Turmeric has anti-bacterial and anti-fungal properties.
We have shared turmeric benefits and remedies in detail in this article.
Ingredients:
1 cup milk
1 teaspoon turmeric powder or grated fresh turmeric when in season
¼ teaspoon black pepper powder
1 teaspoon sugar or as per taste
Recipe:
Wash the turmeric and peel the skin, if using fresh turmeric
Grate it finely.
Heat milk in a pan.
Add grated turmeric/ turmeric and black pepper powder.
Let it simmer for 4-5 minutes.
Add sugar as per your taste and mix well.
Strain the milk using a tea strainer.
Serve hot.
Tips:
Some recipes may have honey in the ingredients. But one should not add honey to hot drinks or heat it. If you want to add honey in place of sugar, then let the milk cool down to lukewarm and then add.
You can also add almond powder or dry fruit powder to this, if you want.
You can also add sweet spices like cinnamon and star anise to the turmeric milk.
Vegan turmeric milk can be made by using coconut milk or almond milk in place of animal milk.
Benefits of Turmeric Milk/ Golden Milk
Loaded with antioxidants, which fight cell damage and protect your body from oxidative stress.
Proven to reduce body pain and joint pain
All main ingredients in turmeric milk have anti-inflammatory properties
May also improve brain function and memory
Helps to regulate blood sugar levels
Ginger and turmeric also help in digestion.
Turmeric milk helps you to relax. That's why it is recommended to have at bedtime.
Are there any side effects of having turmeric milk?
Some people may experience certain side effects, in which case you can avoid taking it regularly. Some common side-effects of turmeric milk may be :
heartburn
upset stomach
nausea
some allergic reaction
If you or your child has any of these side-effects, then discontinue the practice.