Baby Food Recipe – Carrot, potato, rice baby food
Baby food recipe for 6 months old
Once babies have been introduced to single food solids, you can go on to introduce her to complex or mixed solids. 
You must remember our 10 types of khichdi recipes which are perfect mixed foods for babies and toddlers.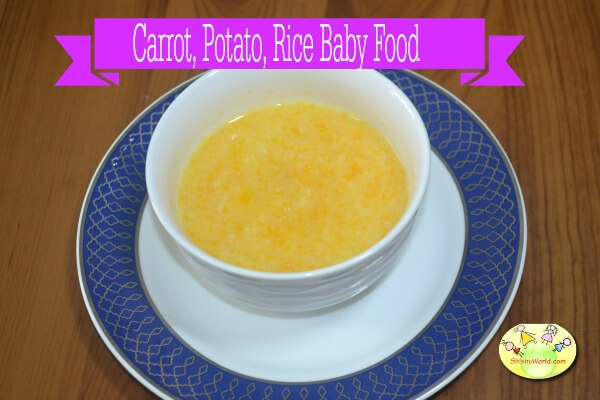 Today, I am sharing one more simple yet mixed ingredient recipe that can be given to babies between 6-7 months. Carrot, potato rice is a wholesome baby food, which provides energy as well as other nutrients to baby's growing body. This baby food is also easy to digest and can be given to baby once s/he has been introduced to solid food for a few weeks.
The carrot, potato rice baby food can be given to baby as lunch or dinner and will keep baby full for a good amount of time.
Food Chart/ meal Plan for 6 months old baby
Baby Food Recipe – Carrot, Potato, Rice baby food
Ingredients
Carrot cut into small pieces – 1/2 cup
Potato cut into small pieces – 1/2 cup
Rice – 2 tablespoon
Ghee – 1/2 tea spoon 
Asafoetida (hing) – 1 pinch
Turmeric powder (haldi) – 1 pinch 
Water – 2 cups or as required
Recipe
Wash the rice well 2-3 times and then soak it in water for 15 minutes to half an hour.
Take a pressure cooker, add chopped potato, carrots and rice to it.
Add turmeric powder and water to pressure cooker
Finally add the ghee.
Put the pressure cooker on heat and cook till 2-3 whistles.
Let the pressure cooker cool down on its own.
Now mash the contents well using a ladle and lunch or dinner for your baby is ready.
Tips:
You may also add the ghee on top while serving if you like, but at 6 months this much ghee is enough.
If you are making this carrot, potato rice for a toddler, you may add a little salt and some spices like pepper, cumin seeds etc.
You may make this same recipe with other vegetables like pumpkin, bottle gourd, peas etc. Mix any two vegetables with rice and cook for a wholesome meal.
Recommended:
20+ recipes for 6 to 9 months old babies
Recipes for 10 to 12 month babies
Instant khichdi cereal/ dal rice cereal