My first grader who is almost 7 years old now is learning about plants in her school and it is wonderful to see her taking a lot of interest in them. She first learned about different types of plants and now she is curious about how they grow and she has planted and grown some plants both in school and at home.
She is also full of questions about how we grow our food, cereal crops, pulses etc. and as always I think of this as an opportunity to let her explore the topic herself. I, like many others, believe that just mugging stuff won't help kids unless they are aware of actual goings on of any subject.
I have got some books for her and was looking for more resources when I landed my hands on just the perfect kit.
It is the "Jungle Magic Garden Sciencz – Explore the magical world of Botany" kit by Piramal Healthcare. So, here is my review of the kit, which will give you a peek of this wonderful product.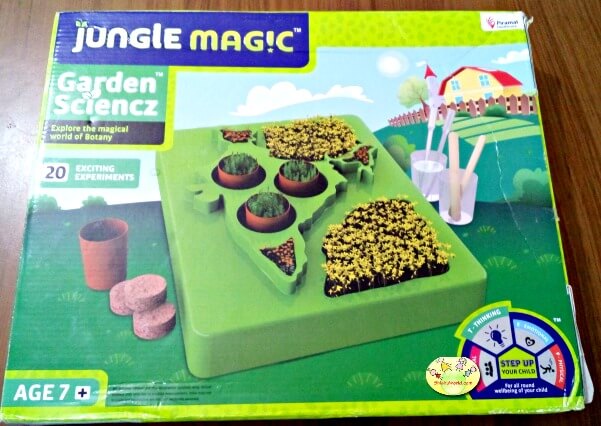 Packaging
The kit comes very well packaged in a carton, with stuff neatly packaged in individual pouches and ziplock bags.
Contents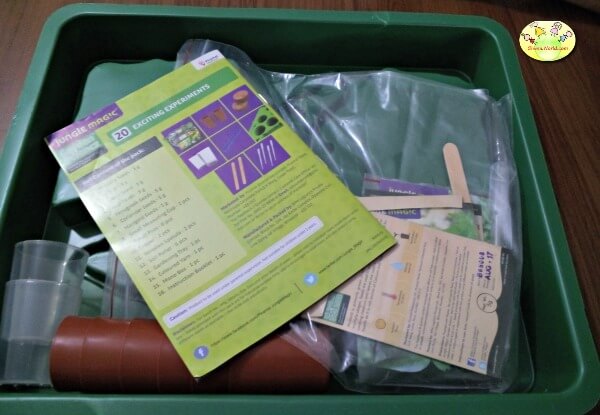 The pack contains:
Instruction Booklet
Pack of mustard seeds
Pack of wheat seeds
Pack of green gram seeds
Pack of fenugreek seeds
Pack of coriander seeds
Pack of marigold seeds
2 measuring cups
6 small pots
2 droppers
2 wooden spatula
5 soil pellets
1 gardening tray
1 piece coloured yarn
1 big mono box
Age-group
Suitable for children who are 7 years old and above.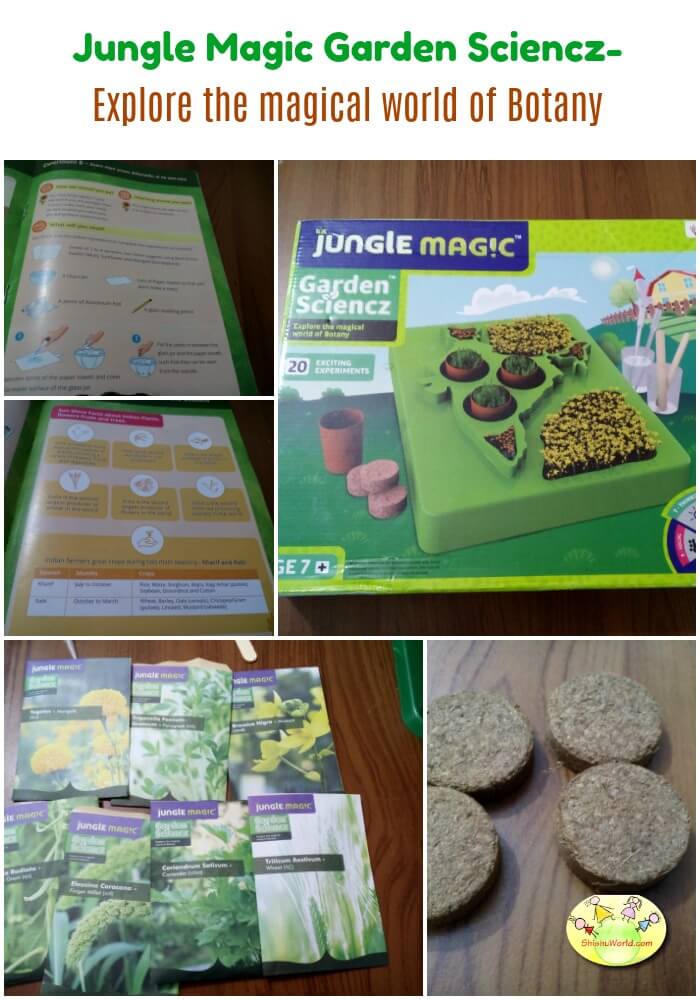 What can children learn from this kit?
The kit is aimed at kids to understand basics of botany.
The kit can help kids understand the process of germination, photosynthesis, how do roots work, planting a seed, growth of a sapling etc.
The instruction booklet comes loaded with lots and lots of fun facts and knowledge about:
1) Farming in India like farming seasons
2) Various rabi and kharif crops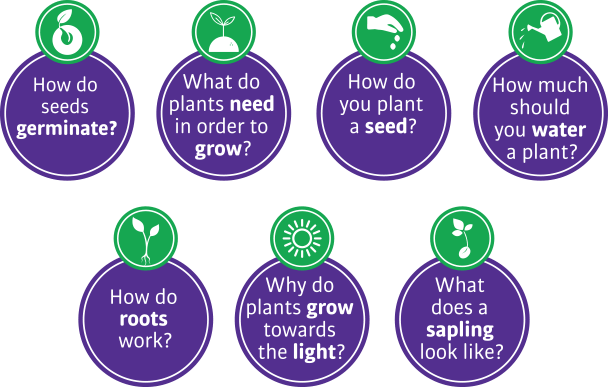 3) Different types of soil found in India.
4) Understanding soil pellets and coco peat.
5) Capillary action in plants
6) Soil contamination and its effects on plants
7) Sunlight and its importance for plant growth
8) Greenhouse effect
and much more
The kit looks exhaustive and perfect for a kid who is ready to start foray into the world of botany. My daughter is super excited to have it and we cannot wait to start our experiments with it. Best part is the experiments and instructions are quite well-explained, so kids can read, understand and explore with minimal supervision.