You guys know by now that I am a fan of Himalaya products and the latest product I got to use is Himalaya BabyCare's gentle baby bath. Himalaya has a range of bathing soaps, so I was quite excited to try this bathing lotion/gel. So, here is my experience of the product.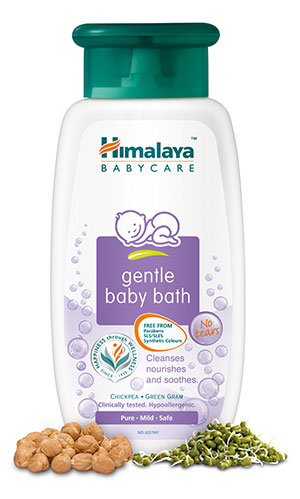 Product claims
Himalaya's Gentle Baby Bath is unique by its natural formulation. It is infused with the goodness of Chickpea, Fenugreek and Green Gram which cleanses your newborn's skin, gently without drying it.
What it contains:
Chickpea
Chickpea flour or besan is something every Indian mother has used for their children and for themselves. It is a natural cleaner and scrubs skin gently.
Chickpea cleanses and soothes baby's delicate skin. It contains antioxidants that are helpful in treating skin diseases and in battling dandruff.
Fenugreek 
fenugreek seeds have also been used in many traditional ubtans  for skin. Fenugreek seeds have numerous benefits for skin care.  
Fenugreek seeds is great for skin lightening, skin toning, sun tan removal. It also helps in curing the skin infections like acne,pimples, rashes and eczema. 
Fenugreek is also an excellent moisturizer and helps in hydrating baby's dry skin.
Green gram 
green gram too is used in many traditional home remedies for skin. It makes baby's skin soft and supple. It is gentle on baby's skin and removes dirt without causing any irritation.
Product Experience
The product is a herbal formulation like all other Himalaya products. It is easy to use and lathers well. It is value for money and reasonably priced and is easily available in all online and offline stores.
Packaging
Himalaya BabyCare gentle baby bath comes in a handy bottle in Himalaya's trademark white and green packaging. It has a convenient flip-top cap.
Product
The baby bath is transparent, clear thick lotion like consistency and is easy to handle. Just a tiny amount produces a rich lather and cleans effectively.
Smell
Himalaya BabyCare gentle baby bath has a very pleasant and mild smell, which leaves baby smelling fresh and clean.
How to Use
Pour Gentle Baby Bath onto a wet sponge or hands and apply to baby's skin. Lather, rinse and repeat, if necessary.
Pack size & Price
The nourishing soap is available in the pack size of 100 ml and 200 ml. The soap is quite reasonable priced.
100 ml – INR 75
200 ml – INR 140