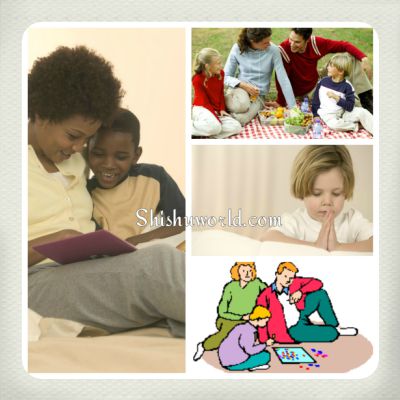 Every family has some rituals or activities which remain etched in the minds of the people living in the house forever. Rituals need not be elaborate and formal. It can be something that a family does either together or in small groups. Most adults distinctly remember special rituals like story time with their parents. I also remember how my mum would stand in the balcony and keep waving to us while we were leaving for school, till the time we had taken the turn.  A family ritual can give a child a sense of having roots and knowing how he/she is different from others and how her family is special for her. Festivals, celebrations come once in a year and are usually celebrated with great fervor, but it is the everyday stuff that children cherish for lifetime. Here are a few ideas of some of the rituals that we follow and you could do too.
Mealtime rituals for kids
This ritual can be started ever since she started sitting in her high-chair. Accompany with singing lots of rhymes, stories. We usually kept her chair by the dining room window which is a full length one and she loved watching children, animals, cars, buses etc. You can also make it a point to eat atleast one meal together as family.
Goodbye Rituals for kids
Make sure to give your child a big hug and kiss when she is going out for school or playtime. Our little girl reminds us and gives us a kissie even if we forget it sometimes.
Coming home rituals for kids
Keep some special ritual for the time when you come from office or outside. This will make your child look forward to that time. You can sing a song together as soon as you enter, play a silly game or have a special greeting. My husband and daughter have silly song they sing and then they play hide and seek. Just running around and hiding behi9nd the door or curtains, but she loves that and is super-excited when her father comes.
Prayer time Rituals for kids
You can have some small rituals like praying or folding hands, singing aratis etc. during prayer time. Our little ones enjoys her time with her grand mum during puja and helps her in giving prasad to everyone.
Bedtime Rituals for kids
This is a special time and parents should try and spend atleast some one-to-one time with child. You can do so much at this time, sing a song, read to your child, make up a story, talk about their day and yours, the list is endless.
Weekend Rituals for kids
Keep some activities to be done over weekend. You can play a board game as a family, go for a drive, even supermarket can be fun if you make it fun for little ones, etc. You can have a special dinner for weekends. Scrabble, ludo, carom board are perfect for game nights.
Monthly and Yearly Rituals ideas
You can set aside one Sunday in a month when all of you go for a drive or watch a movie together. You can also keep a special day for eating out, a trip to zoo or amusement park.
If your extended family lives in another city, you can take kids to visit their grandparents and uncles and aunts once a year. They will cherish those visits for life and it also keeps family bonds strong.
Other ritual ideas for kids
You could involve children in day-to-day activities which will remain with them for life.
If you love gardening, let them water the plants with you. Talk to them about how plants grow, show them seeds, let them help you plant those.
Let the children help out in the kitchen if you see an inclination. Simple tasks like mixing, beating etc. can make them proud. Added advantage is that they will also want to eat what they have helped in preparing.
What rituals do you follow at home with your kids? Do you remember the ones from your childhood?