Continued from: Disneyland HongKong Review
Toy Story land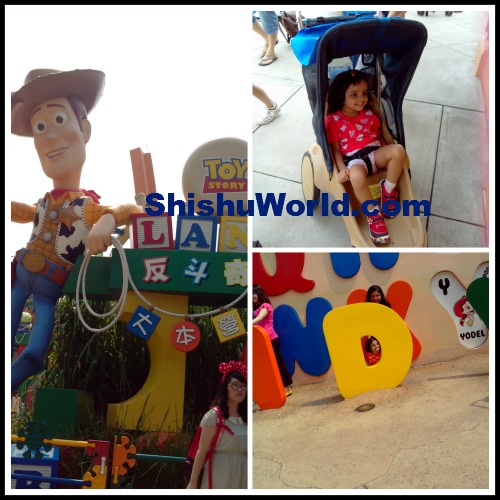 Toy story land is full of your favourite toy story characters and lots of rides. You will also find restaurant and gift shops where you can find souvenirs to take back.
Tomorrow Land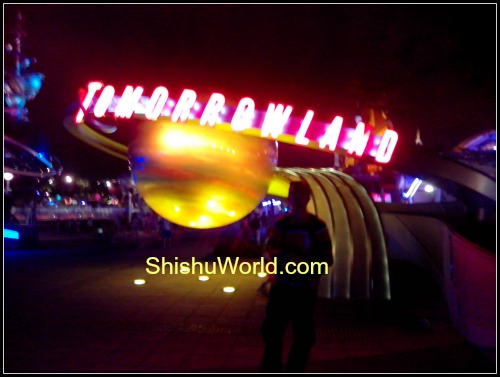 Tomorrow land is the land of Buzz Lightyear, Lilo and Stich. You can take an indoor roller-coaster, enjoy car rides with scenes of aliens in background and other special effects.
Grizzly Gulch
Grizzly Gulch is a roller coaster which takes you through big grizzly mountain mine. It is supposed to be the resort's most thrilling attraction. We did not take it because Aanya is still too young for it we felt.
Adventure Land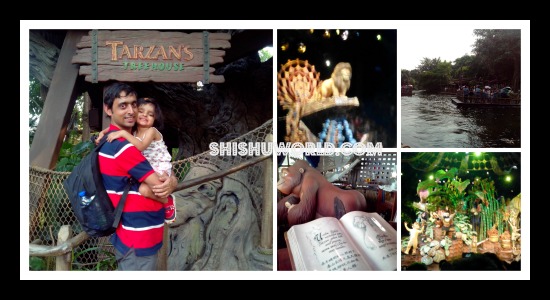 Adventure land is full of jungle attractions. You can enjoy a river raft ride to Tarzan's tree house, which is very well-made. The live musical show "Rise of the Lion King" is wonderful to watch and you will marvel at the finesse of the artists, the music the props. There is also a boat ride through the jungle where you will meet almost live looking mechanised animals- hippos, elephants and cobras.
Food
There are plenty of options of eating with many restaurants serving fast food as well as fine-dining. They serve food from all across the world like Portugal, Israel and South Asia. We took a kid special which had a wholesome meal of rice pilaf, chicken, half a boiled egg, watermelon pieces shaped like Mickey and fried ice cream.
Shopping
There are shopping stalls everywhere and you can take souvenirs and gifts of your choice. We also bought some little Minnie mouse souvenirs, one large Minnie dressed in Chinese clothes, some candies, cookies and Minnie hair bands.
The visit ends with the fireworks show at 9 pm just before the close. It happens at the top of Fantasyland castle and is quite an attraction.
Verdict and Suggestions
Awesome place to visit for children and adults alike. Do not miss it if you happen to be in Hong Kong. Also it is best if your child is five years and above to be able to enjoy all rides.
Go early as there is a lot and you may feel you did not cover everything by the end of the day.
Carry a sweater or a wrap for children even if it is very hot. The air-conditioning can leave you shivering at times especially if you are prone to catching cold. Constant difference in temperature indoors and outdoors is enough to make them sick.
This was my experience of the Disneyland Hong Kong, do let me know how you find it and how it compares to other Disneyland resorts you have visited.